Fox Shocks Replacement Schrader Air Valve Stem For Newer Fox Shocks That Use 7/16 O-Ring Style
Fox Shocks Replacement Schrader Air Valve Stem For Newer Fox Shocks That Use 7/16 O-Ring Style
Suggested:
$15.00
Kartek Price:

$14.25
Sold As: 1 Schrader Valve
Part Number: FOX80200013KIT
MFG Number: 802-00-013-KIT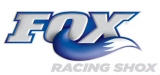 Fox Shocks Replacement Schrader Air Valve Stem For Newer Fox Shocks That Use 7/16 O-Ring Style
This is the standard nitrogen valve that you find on Fox shocks and some bypass shocks. This valve is rated up to 250psi for standard, coil over, or emulsion shocks. If you have an "air shock" that uses high pressure greater than 250psi, we also offer the high pressure Schrader valve. On older Fox shocks that had a welded top instead of the billet aluminum top, those shocks usually used a 1/8" NPT Schrader valve not this 7/16"-20 valve.
Related Parts
Suggested:
$16.50
You Pay:

$15.68
Suggested:
$14.95
You Pay:

$14.25
Suggested:
$2.49
You Pay:

$2.39