Weld-On Seat Mounts For Non-Sliding Fixed Position Seats Such As PRP, Beard Or MasterCraft Seats
Weld-On Seat Mounts For Non-Sliding Fixed Position Seats Such As PRP, Beard Or MasterCraft Seats
Suggested:
$34.99
Kartek Price:

$27.99
Part Number: PRMDDSEATMNTP
Weld-On Seat Mounts For Non-Sliding Fixed Position Seats Such As PRP, Beard Or MasterCraft Seats
These steel weld on brackets will fit most flat tab seats such as EMPI, Racetrim, Beard, PRP and MasterCraft suspension seats that have a 18" center to center tab setup.
We also sell mounting brackets that use slider mechanisms. Below is a diagram of how to assemble the slider mechanisms. The height of the fixed position seat mounting tabs is equal to the height of the seat slider so if you plan to use a slider for the driver and a fixed seat for the passenger, then the seats will sit at the same height.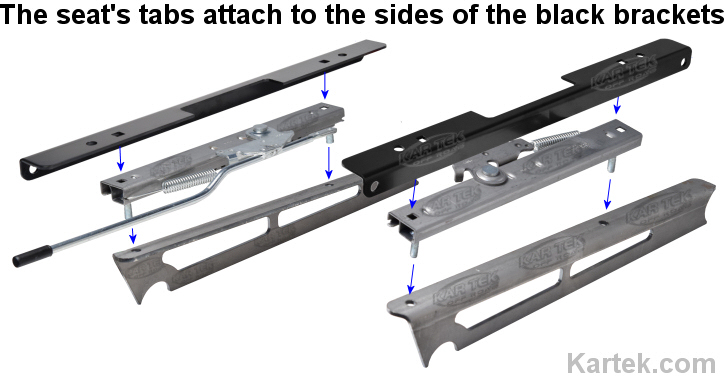 Related Parts
Suggested:
$34.99
You Pay:

$27.99
Suggested:
$64.99
You Pay:

$51.99