Adjustable Seat Slider Mounts With Angle Brackets For One Seat For Use With DDSEATMNTD Weld-On Mount
Adjustable Seat Slider Mounts With Angle Brackets For One Seat For Use With DDSEATMNTD Weld-On Mount

California Prop 65 Warning. This item may cause cancer or reproductive harm. For more info visit https://www.p65warnings.ca.gov/
Adjustable Seat Slider Mounts With Angle Brackets For One Seat For Use With DDSEATMNTD Weld-On Mount
This seat mount kit features angled brackets that will mount to most suspension seats that use the 18" center to center tab mounting pattern such as EMPI, Racetrim, Beard, PRP and MasterCraft. These angle brackets allow you to build your own custom seat mounts for your buggy, truck, UTV, or Jeep. The kit has a seat slider mechanism to allow to you to adjust the seat forward and back for different sized drivers. The kit includes the angled brackets, sliders and hardware for one seat.
The weld on mounting brackets for a tube chassis are
SOLD
SEPARATELY
. Below is a diagram of how to assemble the slider mechanisms. We also sell fixed position weld on mounting brackets. The height of the fixed position seat mounting tabs is equal to the height of the seat slider so if you plan to use a slider for the driver and a fixed seat for the passenger, then the seats will sit at the same height.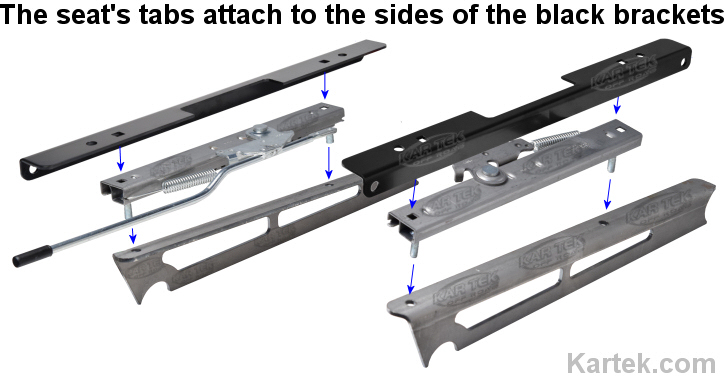 Related Parts
Suggested:
$49.99
You Pay:

$35.99
Suggested:
$49.99
You Pay:

$35.99