Chassis Unlimited Brushed Aluminum Adjustable Seat Sliders With 17 One Inch Adjustment Points
Chassis Unlimited Brushed Aluminum Adjustable Seat Sliders With 17 One Inch Adjustment Points

California Prop 65 Warning. This item may cause cancer or reproductive harm. For more info visit https://www.p65warnings.ca.gov/
Chassis Unlimited Brushed Aluminum Adjustable Seat Sliders With 17 One Inch Adjustment Points
Billet aluminum seat sliders will fit most flat tab seats such as EMPI, Racetrim, Beard, PRP and MasterCraft suspension seats that have a 18" center to center tab setup. The seat sliders can be used with our weld on
seat mounts
listed below to give the seat a slight lean backwards.
The Seat-loc provides up to 12" of adjustability (6" forward or 6" backward from center) to your seat and uses double locking steel pins to keep your seat safe and secure.

The Seat-loc adds 1-7/8" to your existing seat height and carries a recommended 275 lbs. at maximum extension. All Seat-Loc's are made from the highest quality U.S.A. made 6061-T6 aluminum bar.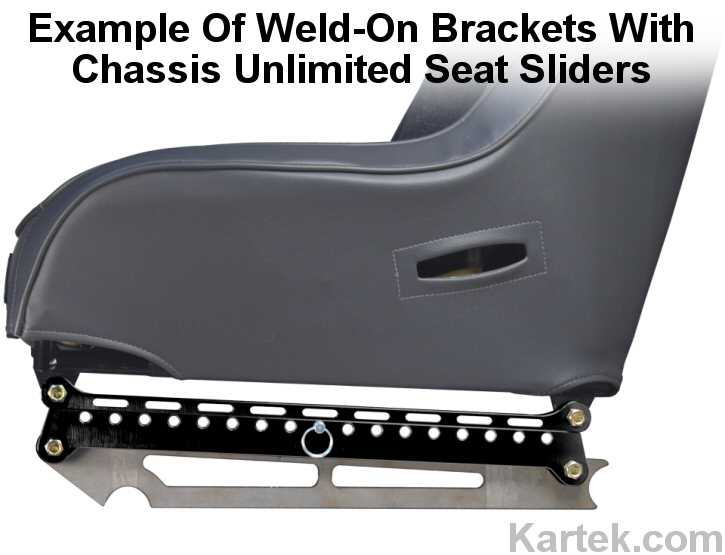 Related Parts
Suggested:
$350.00
You Pay:

$279.99
Suggested:
$49.99
You Pay:

$35.99
Suggested:
$2.49
You Pay:

$1.89
Suggested:
$0.99
You Pay:

$0.85