Steel-It Black 1012 Polyurethane Anti-Rust Aerosol Coating Weather, Abrasion And Corrosion Resistant
Steel-It Black 1012 Polyurethane Anti-Rust Aerosol Coating Weather, Abrasion And Corrosion Resistant
We can ONLY ship this ground.
We can
not
ship this next day air, 2 day air, 3 day air or internationally because it is pressurized.
Sold Individually - But Also Available In A Case Of 12 Cans

California Prop 65 Warning: This item may cause cancer or reproductive harm. For more info visit p65warnings.ca.gov
Description
For maximum strength, use with STEEL-IT's 2203 Alkyd Primer (when weldability is not a desired)
The STEEL-IT Polyurethane Coating System features a unique stainless steel leafing pigment, and provides optimum weather, abrasion, and corrosion resistance in off-road racing applications. The easy to apply system yields a hard, non-toxic, metallic finish that protects a multitude of metallic and non-metallic surfaces from ultraviolet rays, chemicals, oils, alkalis, food acids, water immersion, abrasion, and high-pressure washdowns.
This single component coating does not require complicated mixing. Apply it directly from the can, it is air dried and requires no baking or heating. USDA-approved for use in the food processing and handling industry where incidental food contact may occur, STEEL-IT Polyurethane #1012 blends polyurethane resin with Type 316L stainless steel leafing pigment to produce a rugged, non-toxic, satiny metallic finish.
Conventional or airless spraying is the preferred application method, however, it may also be applied easily by brush or roller.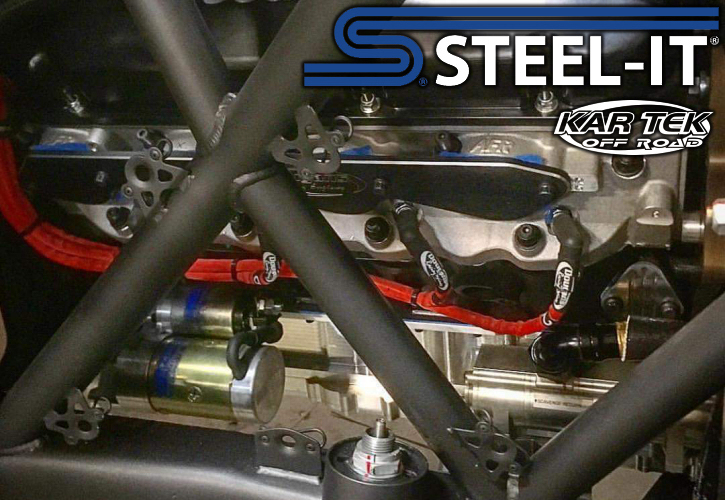 mavcoat mav-coat shield steal-it steal it steel it chromoly chrome-moly chrome moly 4130 4140 tubing
Related Parts
Email us for current pricing and availability