Red Eibach 100 Pound 14" Tall Spring For 2" Diameter King, Sway-A-Way Or Fox Coil Over Shocks
Red Eibach 100 Pound 14" Tall Spring For 2" Diameter King, Sway-A-Way Or Fox Coil Over Shocks
Red Eibach springs vary in color. Some are a burgundy or maroon color and some are a bright red. Product images may differ from actual product appearance.
Suggested:
$77.78
Kartek Price:

$70.00
Sold As: 1 Eibach Shock Spring For Fox, King, Sway-A-Way
Part Number: ERS1400250100R
MFG Number: 1400.250.0100

CA Prop 65 Warning
Red Eibach 100 Pound 14" Tall Spring For 2" Diameter King, Sway-A-Way Or Fox Coil Over Shocks
If you're going to use this as an upper spring on a dual rate coil-over shock such as King, Fox, or Sway-A-Way, it's important to set the position of your crossover ring so the spring divider hits the cross over ring
BEFORE
the upper spring crushes itself (coil bind). See diagram below.
Eibach Part Number:
1400.250.0100
1400-250-0100
Length: 14 Inches / 356mm
Inside Diameter: 2.5 Inches / 64mm
Spring Rate: 100 lbs/inch - 1.79 kg/mm - 18 N/mm
Full Compressed Height: 4.39 Inches / 112mm
Travel: 9.61 Inches / 244mm
Load At Full Compression: 961lbs / 4275N
Weight: 3.09lbs / 1.4kgs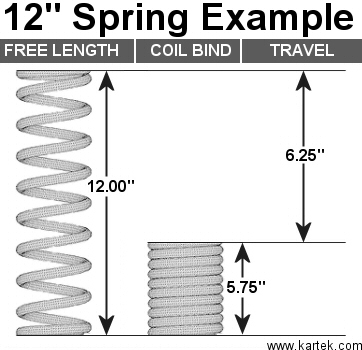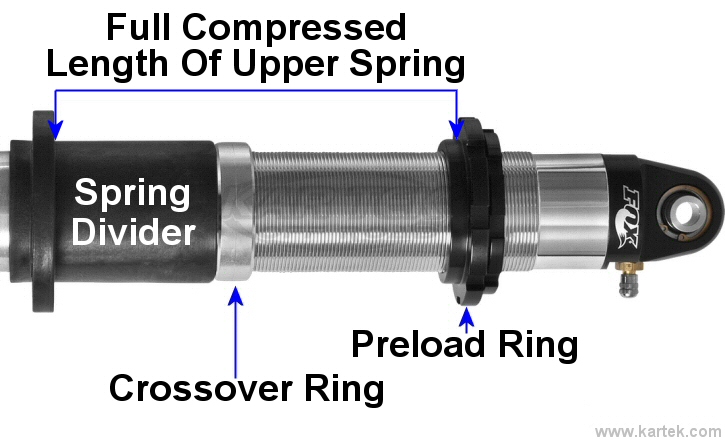 Related Parts
Suggested:
$39.99
You Pay:

$34.99
Suggested:
$51.99
You Pay:

$43.99
Suggested:
$39.99
You Pay:

$34.99
Suggested:
$39.99
You Pay:

$34.99
Suggested:
$44.44
You Pay:

$40.00
Suggested:
$66.67
You Pay:

$60.00
Suggested:
$60.00
You Pay:

$54.00
Suggested:
$62.22
You Pay:

$56.00
Suggested:
$66.67
You Pay:

$60.00
Suggested:
$81.11
You Pay:

$73.00
Suggested:
$59.99
You Pay:

$39.99
Suggested:
$59.99
You Pay:

$39.99
Suggested:
$59.99
You Pay:

$39.99