Phenix Industries Billet Aluminum Double Ended Combo AN Wrenches -3, -6, -8, -10, -12, -16, -20
Phenix Industries Billet Aluminum Double Ended Combo AN Wrenches -3, -6, -8, -10, -12, -16, -20
Suggested:
$99.99
Kartek Price:

$84.99
Sold As: 7 AN Wrenches
Part Number: PHEM10023
MFG Number: M1002-3

CA Prop 65 Warning
Phenix Industries Billet Aluminum Double Ended Combo AN Wrenches -3, -6, -8, -10, -12, -16, -20
These double ended wrenches provide two of each of the common wrench sizes allowing both building and maintenance of your hose assemblies. Finished in black anodized and etched with the Phenix logo.

On each wrench you'll see the AN size with a letter B or S. The B is for the blue hose end side of the AN fitting. The S is for the red sleeve that goes over the hose. They are on two different wrenches. For example AN #6B is on a separate wrench from AN #6S.

There are 7 wrenches, but 14 different ends.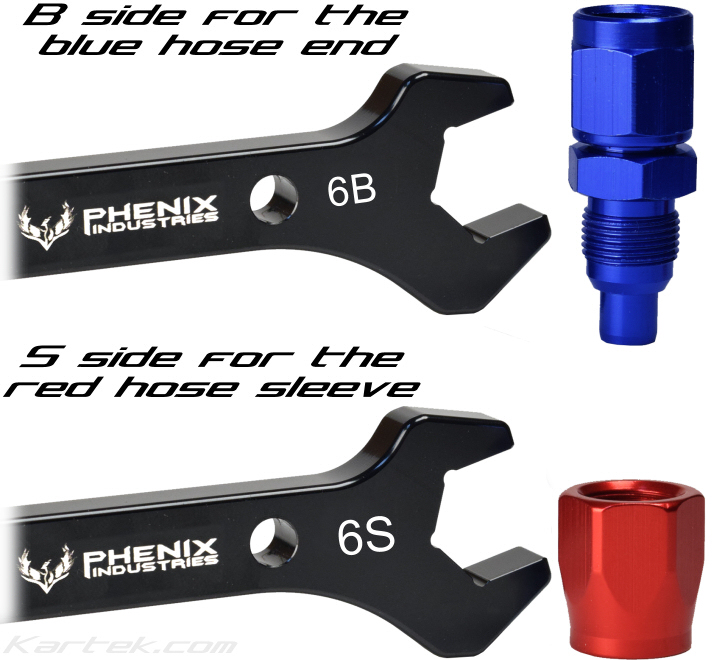 Related Parts
Suggested:
$40.00
You Pay:

$40.00
Suggested:
$74.44
You Pay:

$69.99
Suggested:
$24.99
You Pay:

$19.99
Suggested:
$24.99
You Pay:

$22.99
Suggested:
$124.99
You Pay:

$114.95
Suggested:
$249.99
You Pay:

$181.95
Suggested:
$189.99
You Pay:

$149.99
Suggested:
$99.99
You Pay:

$76.99
Suggested:
$119.99
You Pay:

$105.99
Suggested:
$190.00
You Pay:

$190.00
Suggested:
$34.99
You Pay:

$25.95
Suggested:
$39.99
You Pay:

$28.95
Suggested:
$39.99
You Pay:

$32.95