Kartek Off-Road Driver Side Tig Welded Heavy Duty A-Arm King Kong Buggy Or Sand Rail Spindle
Kartek Off-Road Driver Side Tig Welded Heavy Duty A-Arm King Kong Buggy Or Sand Rail Spindle
Suggested:
$349.99
Kartek Price:

$329.99
Part Number: PRMKKAALSP
Kartek Off-Road Driver Side Tig Welded Heavy Duty A-Arm King Kong Buggy Or Sand Rail Spindle
These TIG welded spindles with steering arms are available in Combo, King Kong, or 2" hollow snout sizes. Made from 4130 chromoly steel plate.
After the invention of Combo link, that was designed many years ago by Kartek Off-Road, came a need for an even larger diameter spindle shaft. Combining the 3 bolt backing plate pattern from a VW ball joint spindle, the threads from VW King and Link Pin spindle and our own large diameter proprietary spindle shaft, King Kong was born. Used for many years by Desert Dynamics, Desert Rat Buggies, Buggy Works and Toyz 4 Big Boyz.
Notes:
Uses the same diameter 18mm-1.5 thread spindle nuts as Combo Link and VW King And Link Pin
Uses the same caliper bracket as a Combo Link or VW ball joint spindle
Driver side spindle is left hand reverse thread
Disc Brake Kits are NOT interchangeable between Combo Link and King Kong because of the bearing diameters
Seal Diameter: 48mm
Inner Bearing Spindle Diameter: 38mm
Outer Bearing Spindle Diameter: 30mm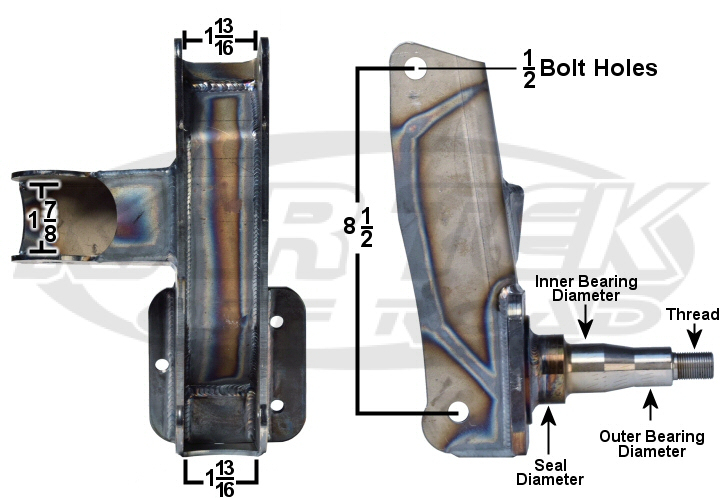 Related Parts
Suggested:
$349.99
You Pay:

$329.99
Suggested:
$34.99
You Pay:

$29.99