IMI Performance 101NL 1.9HP 12V High Torque Starter For Mendeola To 6 Cylinder Acura / Honda Engine
IMI Performance 101NL 1.9HP 12V High Torque Starter For Mendeola To 6 Cylinder Acura / Honda Engine

California Prop 65 Warning. This item may cause cancer or reproductive harm. For more info visit https://www.p65warnings.ca.gov/
IMI Performance 101NL 1.9HP 12V High Torque Starter For Mendeola To 6 Cylinder Acura / Honda Engine
This is HiTorque's 101NL large N series motor self supporting gear reduction starter. HiTorque does offer the 101 with three different size motors depending on your needs. See below picture for reference. This starter is self supporting. In a VW transmission you don't need to run the bronze support bushing that normally holds the other side of the starter.
HiTorque created this starter for the Acura or Honda V6 engines to clear the water neck just above the transmission. For example using an engine adapter plate for the Honda V6 on a Mendeola transmission with the center mount starter bell housing. This starter sits back further to clear those radiator hoses. If you're not running a Acura or Honda engine, then you'd buy the normal 101 / 101N / 101HD starter.
Specifications
Rotation: CCW
Kilowatts: 1.4
Horsepower: 1.9
Voltage: 12v
GP9 Nine Tooth 25.4mm Gear
Fits 12 Volt 130 Tooth VW Style Flywheels
5/16" Battery Cable Post
Fits Transaxles:
Fortin Racing
Mendeola
PBS
VW Type 1 Beetle IRS or Swing Axle
VW Type 2 Three Rib 002 Bus
Weddle Industries
The mounting flange on HiTorque's starters can be rotated to several positions allowing you to move the starter's motor out of the way of any chassis braces that might be in the way.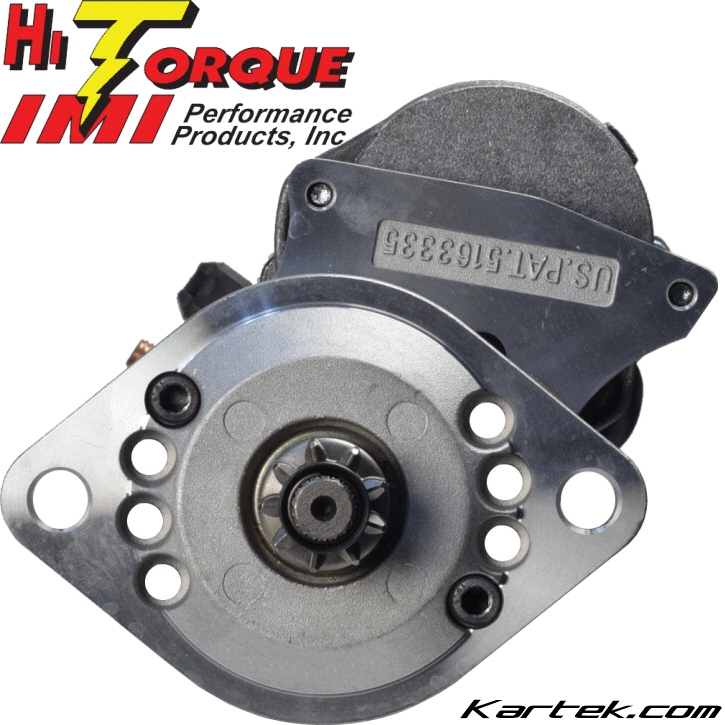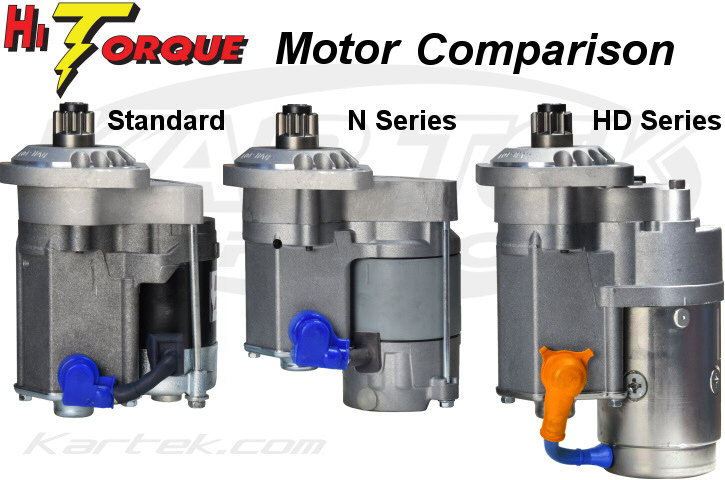 One benefit to the N series HiTorque starters, is that they have a 2" on center solenoid cap. This allows you to purchase a push button style "emergency" solenoid cap. If you've ever been in the desert and had your starter/ignition switch fail, a push button cap allows you to push the solenoid towards the flywheel to crank over the engine. The starter does not include this button cover. You'll have to purchase that separately.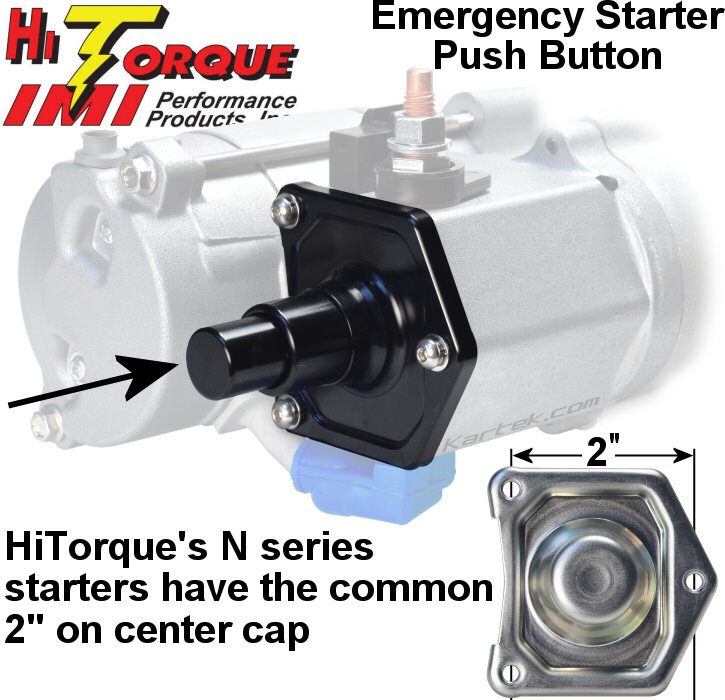 Related Parts
Suggested:
$36.39
You Pay:

$34.57
Suggested:
$3.79
You Pay:

$2.25
Email us for current pricing and availability
Suggested:
$8.99
You Pay:

$6.99
Suggested:
$5.00
You Pay:

$5.00
Suggested:
$20.00
You Pay:

$15.00
Suggested:
$24.99
You Pay:

$19.99
Suggested:
$0.99
You Pay:

$0.89
Suggested:
$1.50
You Pay:

$1.19
Suggested:
$3.99
You Pay:

$2.25
Suggested:
$3.99
You Pay:

$3.49
Suggested:
$11.99
You Pay:

$8.99
Suggested:
$3.99
You Pay:

$3.49
Suggested:
$11.99
You Pay:

$8.99