Fox Shocks Truck And Buggy Short Replacement Nylon Spring Divider For 2.0" Diameter Coil Over Shocks
Fox Shocks Truck And Buggy Short Replacement Nylon Spring Divider For 2.0" Diameter Coil Over Shocks
Suggested:
$26.00
Kartek Price:

$25.00
Sold As: 1 Spring Divider
Part Number: FOX23400386
MFG Number: 234-00-386
CA Prop 65 Warning
Fox Shocks Truck And Buggy Short Replacement Nylon Spring Divider For 2.0" Diameter Coil Over Shocks
Note:
This spring divider will also fit the UTV 2" coil over shocks but the flange that the spring rest on is slightly larger. Buggy/Truck/UTV 2" shocks all use the same 2-1/2" inside diameter spring.
This spring divider is normally used on a 2" dual rate shock to convert it to a triple rate with the thin helper spring on the top. See below picture for reference. On most shocks you'll need to remove the hose or Schrader valve at the top of the shock to slide on the additional spring divider. We can convert any shock to add the additional spring divider. Email or call us for more information.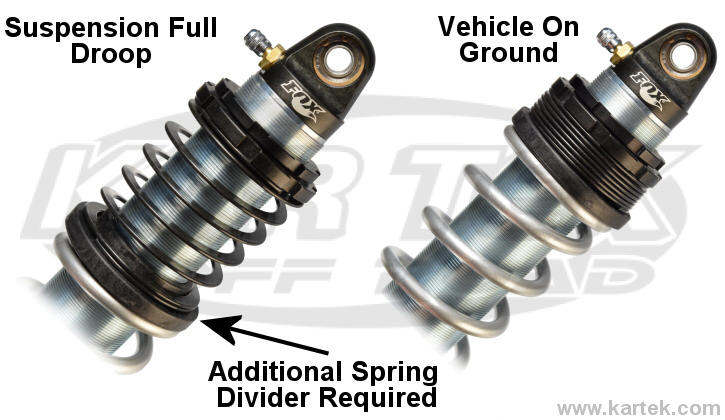 Related Parts
Suggested:
$9.40
You Pay:

$8.93
Suggested:
$26.00
You Pay:

$25.00
Suggested:
$50.00
You Pay:

$45.00
Suggested:
$50.00
You Pay:

$45.00
Suggested:
$9.00
You Pay:

$8.00
Suggested:
$15.00
You Pay:

$14.00