Joes Racing Products Fox, King Or Sway-A-Way Shock Workstation Bench Vice Holds Shock Body And Shaft
Joes Racing Products Fox, King Or Sway-A-Way Shock Workstation Bench Vice Holds Shock Body And Shaft
Suggested:
$229.99
Kartek Price:

$189.99
Sold As: 1 Shock Workstation
Part Number: KTK19200
MFG Number: 19200

Joes Racing Products Fox, King Or Sway-A-Way Shock Workstation Bench Vice Holds Shock Body And Shaft
JOES shock workstation lets you hold on to your shock body and the shaft at the same time, making it a lot faster, easier and cleaner to rebuild your shocks. Just put the JOES workstation in a vise and you're ready to go or mount it securely to a workbench or pit cart with their base.
Out of the box, Joes shock workstation will fit most 2.0 shocks from King, Fox and Sway-A-Way. The right side can clamp directly onto the shaft. It will hold a 5/8", 3/4", 7/8", or 1" diameter shock shaft. The gap on the right side is 1-1/8" and will hold most shock end loops.
The shock workstation was machined to fit small shocks such as asphalt late model, dirt late model, micro sprint, midget or quarter midget. We found that if you cut out the pocket on the left hand side that you'll be able to fit the larger offroad shock bodies from King, Fox and Sway-A-Way.
The left side aluminum soft jaw opens up to 1-1/8" just like the right side. However, the edges of the red part, are a little bit in the way of holding on to a larger shock body. Remove as
little
material as possible to fit your shock body on the left hand side. See below example: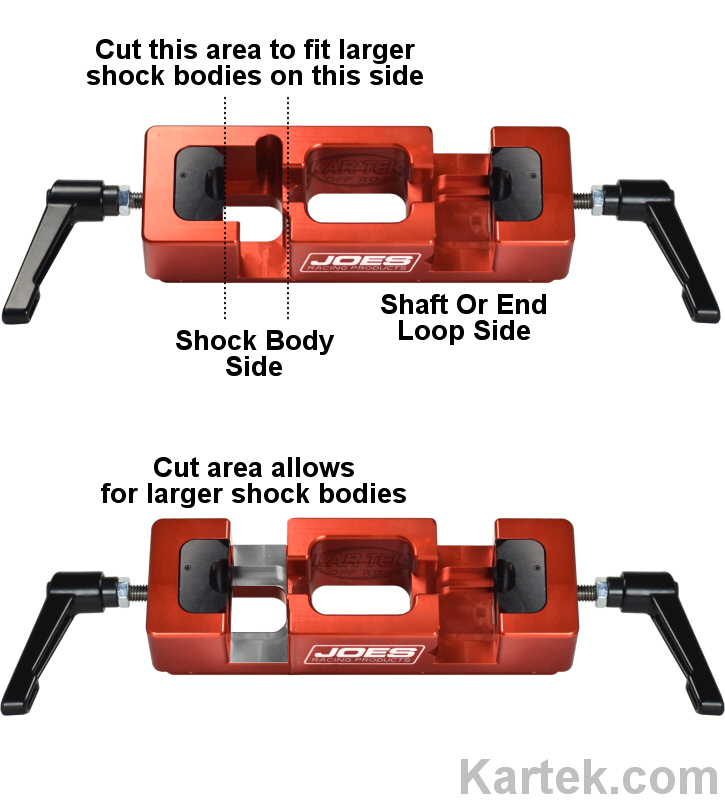 Related Parts
Suggested:
$34.99
You Pay:

$30.00
Suggested:
$135.00
You Pay:

$128.25
Suggested:
$200.00
You Pay:

$141.75
Suggested:
$200.00
You Pay:

$141.75
Suggested:
$200.00
You Pay:

$141.75
Suggested:
$23.99
You Pay:

$20.99