Fragola AN -16 Male Schrader Valve Hose Pressure Tester Includes -16 Plug For The Other End Of Hose
Fragola AN -16 Male Schrader Valve Hose Pressure Tester Includes -16 Plug For The Other End Of Hose
Suggested:
$25.99
Kartek Price:

$20.99
Sold As: 1 Blank Plug And 1 Plug With Air Valve
Part Number: FRA900676
MFG Number: 900676

Fragola AN -16 Male Schrader Valve Hose Pressure Tester Includes -16 Plug For The Other End Of Hose
This economical pressure test kit is a must for every toolbox. It allows the quick testing of your hose assemblies. A compressed air source is needed to pressurize the hose, plus a water bath to submerge and check for leaks.

These #16 plugs have a standard 37 degree JIC style flare. 1-5/16"-12 Thread.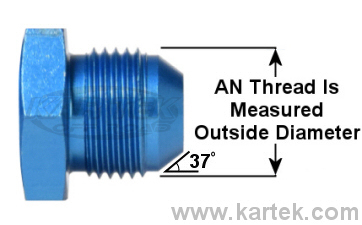 Related Parts
Suggested:
$8.99
You Pay:

$6.99
Suggested:
$8.99
You Pay:

$6.99
Suggested:
$11.99
You Pay:

$8.99
Suggested:
$16.99
You Pay:

$12.99
Suggested:
$16.99
You Pay:

$12.99
Suggested:
$16.99
You Pay:

$12.99
Suggested:
$17.99
You Pay:

$14.99
Suggested:
$19.99
You Pay:

$16.99
Suggested:
$21.99
You Pay:

$18.99