Fox Shocks Old Style 2.0 Bump Stop Pad Holder For 1-1/4" Shaft Use 1.750" Diameter Pad 008-01-017
Fox Shocks Old Style 2.0 Bump Stop Pad Holder For 1-1/4" Shaft Use 1.750" Diameter Pad 008-01-017
Suggested:
$35.00
Kartek Price:

$33.25
Sold As: 1 Pad Mount
Part Number: FOX21301236
MFG Number: 213-01-236
Fox Shocks Old Style 2.0 Bump Stop Pad Holder For 1-1/4" Shaft Use 1.750" Diameter Pad 008-01-017
Recently, Fox changed the bottom of their bump stops. On their old style bump stops the head of the pad's bolt and nut stuck out. On their new style bump stops the bolt head and nut are countersunk. This changed the diameter of the shoulder on the bump stop pad. See below example.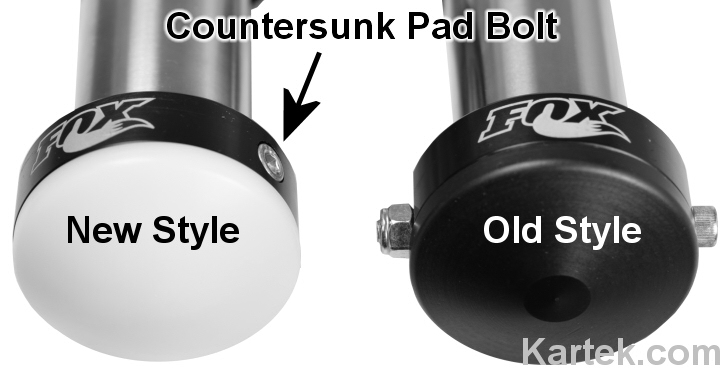 Related Parts
Suggested:
$9.99
You Pay:

$9.50
Suggested:
$18.99
You Pay:

$18.29
Suggested:
$9.99
You Pay:

$9.50
Suggested:
$18.99
You Pay:

$18.20
Suggested:
$29.99
You Pay:

$28.99