Fox 9 Speed Remote Reservoir CD Adjuster Allows Compression Adjustment Without Taking Shock Apart
Fox 9 Speed Remote Reservoir CD Adjuster Allows Compression Adjustment Without Taking Shock Apart
Suggested:
$120.00
Kartek Price:

$120.00
Sold As: 1 Shock Compression Adjuster
Part Number: FOX81500074KIT
MFG Number: 815-00-074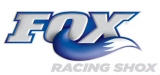 Fox 9 Speed Remote Reservoir CD Adjuster Allows Compression Adjustment Without Taking Shock Apart
Cross reference 815-00-036-kit or 81500036kit
Fox 2.0 shock compression damping adjuster upgrade. The CD adjuster gives your 2.0 remote reservoir shock 9 clicks of compression adjustability — from very soft to very firm. This allows for adjusting the rate of compression for Fox 2.0" remote reservoir shocks with a 5/8" shaft without having to take the shock apart to change valving shims.
The compression adjuster is specifically designed for a Fox Shock that has a 5/8 shaft with a hose remote reservoir. You will have to disassemble your shock reservoir one time to replace the top cap of the reservoir with this adjuster. It will only work with the 5/8 shaft shocks because the hose on a 5/8 shock is 7/16 o-ring. On 2.0 shocks with a 7/8 shaft, they use a larger 9/16 o-ring hose. You can adjust your Fox shock without having to constantly take it apart to adjust valving shims! This is a great option for people with 4 seat sand rails, dune buggies, baja bugs, jeeps, or rock crawlers. When you have 4 passengers adjust the compression higher to compensate for the extra weight. When you have 2 passengers adjust the compression lower for a softer ride.
Compatible Fox Shock Part Numbers:
Coil Over Shocks With 5/8 Shaft:
980-02-042
980-02-040
980-02-006
980-02-003
980-02-005
980-06-042
980-06-040
980-06-006
980-06-003
980-06-005

Class 9 And Class 11 Shocks With 5/8 Shaft:
980-02-049
980-02-120
980-02-121


Standard Shocks With 5/8 Shaft:
980-02-029
980-02-030
980-02-404
980-02-031
980-02-032
980-02-039
980-02-034
980-02-035
980-06-029
980-06-030
980-06-404
980-06-031
980-06-032
980-06-039
980-06-034
980-06-035


Chrome Shocks With 5/8 Shaft:
980-04-029
980-04-030
980-04-404
980-04-031
980-04-032
980-04-039
980-04-034
980-04-035
980-16-029
980-16-030
980-16-404
980-16-031
980-16-032
980-16-039
980-16-034
980-16-035
Related Parts
Suggested:
$314.99
You Pay:

$298.99
Suggested:
$514.99
You Pay:

$489.99
Suggested:
$52.58
You Pay:

$49.95
Suggested:
$135.00
You Pay:

$128.25
Suggested:
$34.99
You Pay:

$30.00
Suggested:
$200.00
You Pay:

$141.75
Suggested:
$200.00
You Pay:

$141.75
Suggested:
$200.00
You Pay:

$141.75
Suggested:
$11.99
You Pay:

$10.99
Suggested:
$35.99
You Pay:

$33.99
Suggested:
$19.99
You Pay:

$15.49
Suggested:
$71.00
You Pay:

$51.99