Blue Sea Systems Power Distribution Block 3/8" Post For Battery Cable Provides Eight Screw Terminals
Blue Sea Systems Power Distribution Block 3/8" Post For Battery Cable Provides Eight Screw Terminals

California Prop 65 Warning: This item may cause cancer or reproductive harm. For more info visit p65warnings.ca.gov
Description
This 3/8" power post features a multiple power connections in a compact design. It can be easily mounted in any location and includes a protective sleeve.
Features:
Enables connection of multiple smaller wires in spaces where a traditional bus bar may not fit
150 Ampere bus allows small wire connections at high amperage cable connections
Connects high amperage cables securely
Stud dimensions: 3/8" x 3/4"
Base Material is Black Nylon 8231 GHS
Specifications:
Amperage: 150A DC
Color: Red
Maximum Voltage: 48V DC
Stud Size: 3/8"-16 x 3/4"
Terminal Stud Torque: 140 in-lb (15.82 Nm)
Base Material: Reinforced Thermoplastic
Bus Material: Tin-Plated Copper
Screw Size: #8-32
Weight: 0.34lb (0.15 kg)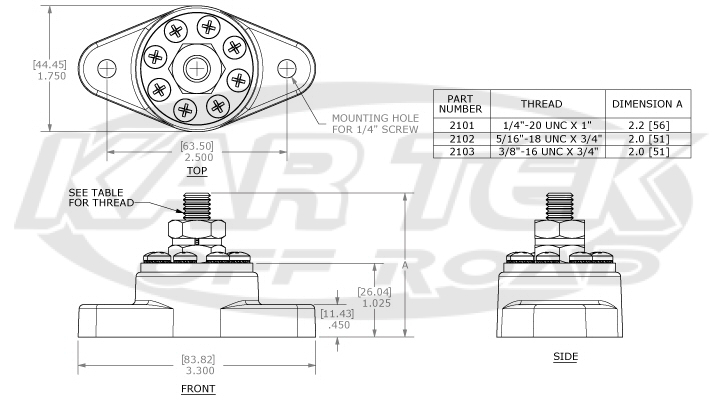 Related Parts