Aurora Bearing Company 3/4" ID, 1-3/8" OD PWB-12T PTFE Coated Uniball Spherical Bearings
Aurora Bearing Company 3/4" ID, 1-3/8" OD PWB-12T PTFE Coated Uniball Spherical Bearings
Product images may differ from actual product appearance.
Suggested:
$59.99
Kartek Price:

$43.99
Sold As: 1 Uniball Spherical Bearing
Part Number: AURPWB12T
MFG Number: PWB-12T

Aurora Bearing Company 3/4" ID, 1-3/8" OD PWB-12T PTFE Coated Uniball Spherical Bearings
Fk Rod Ends Part Number Cross Reference: WSSX-12T or WSSX-12TV
The PWB series uniballs are Aurora's wide series which has a 17-4 stainless heat treated body with a 440C stainless heat treated ball which is PTFE coated.

Important Note:
On 3/4" uniballs, if you use a high angle misalignment spacer, you must put the spacers in a lathe and radius them for a uniball. The radius of the misalignment matches a heim joint, but on 3/4" uniballs, the edge hangs over and will peel out the PTFE liner in your uniball. See below picture.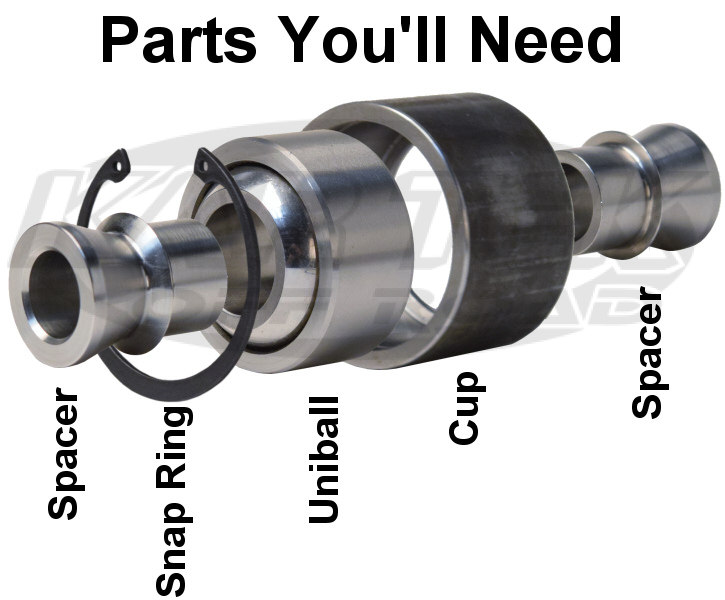 Related Parts
Suggested:
$19.99
You Pay:

$17.99
Suggested:
$21.99
You Pay:

$17.99
Suggested:
$1.99
You Pay:

$1.29
Suggested:
$35.99
You Pay:

$25.99
Suggested:
$37.99
You Pay:

$27.99
Suggested:
$12.99
You Pay:

$10.99
Suggested:
$13.99
You Pay:

$10.99
Suggested:
$13.99
You Pay:

$10.99
Suggested:
$10.99
You Pay:

$9.99
Suggested:
$10.99
You Pay:

$9.99
Suggested:
$17.99
You Pay:

$13.99