Aeromotive 12601 - 10 Micron Cellulose Post Filter Element 2-15/16" Long 1-5/8" Dia. 7/8" Opening
Aeromotive 12601 - 10 Micron Cellulose Post Filter Element 2-15/16" Long 1-5/8" Dia. 7/8" Opening
Suggested:
$21.99
Kartek Price:

$19.99
Sold As: 1 Filter Element
Part Number: AER12601
MFG Number: 12601

CA Prop 65 Warning
Aeromotive 12601 - 10 Micron Cellulose Post Filter Element 2-15/16" Long 1-5/8" Dia. 7/8" Opening
Cross reference part number: Weldon WEQ10MC
Replacement element for 12301, 12321, 12351, 12306, 12347, 12377, 12387, 12333 housings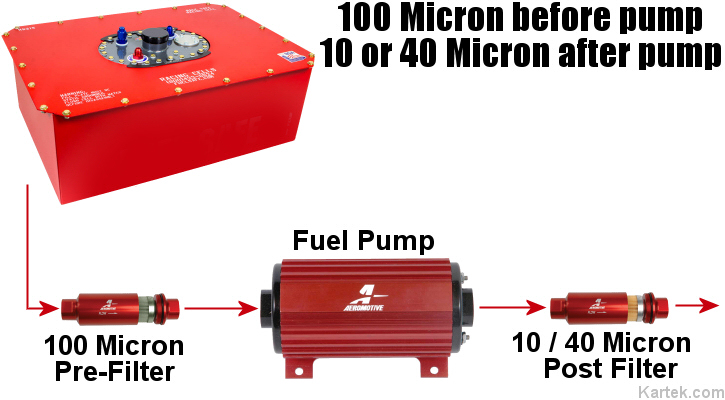 Commonly the most overlooked component in a fuel system, filter neglect can be the most costly. If not cleaned or replaced regularly, filter elements can become clogged resulting in reduced fuel flow, engine performance and ultimately, fuel pump or even worse, engine damage. By simply replacing and/or cleaning your filter elements regularly, you can avoid costly repairs to your fuel system and ensure peak engine performance. Severe duty applications or newly installed systems may require more frequent maintenance. How do you know what element you need for your filter? Several Aeromotive filters share the same housing, but the elements inside may be drastically different and putting the wrong filter or element in the wrong place could be costly for your fuel pump or your engine. To find out, look inside the inlet of the filter. Stamped on the top of the element is the micron rating. This will tell you what element you need for your filter.
Recommended for applications using pump gas, racing gas, diesel fuel, jet fuel, avgas
NOT RECOMMENDED for alcohol fuels including ethanol and methanol. Use 12650 for alcohol fuels including ethanol and methanol
Over 60 square inches of element surface area supports high flow while providing good service life
Flow capacity of up to 250 GPH (4.17 GPM) with less than 1-PSI pressure drop
Supports up to 2,000 Flywheel HP, Forced Induction, on gasoline
Ideal for gasoline, EFI engines with small to medium Aeromotive fuel pumps from the Phantom 200 through the Eliminator pump
Popular for demanding gasoline, carbureted engine applications using Aeromotive HO-Series, SS-Series and A2000 fuel pumps
Related Parts
Suggested:
$21.99
You Pay:

$19.99
Suggested:
$49.99
You Pay:

$45.99
Suggested:
$107.82
You Pay:

$105.00
Suggested:
$139.99
You Pay:

$128.85