Aeromotive 12321 - 10 Micron Blk Post Fuel Filter 5-1/2" Long x 2" Diameter -10 ORB Inlet And Outlet
Aeromotive 12321 - 10 Micron Blk Post Fuel Filter 5-1/2" Long x 2" Diameter -10 ORB Inlet And Outlet
Call
or
Email for availability
Sold As: 1 Filter Housing With Internal Filter
Part Number: AER12321
MFG Number: 12321


California Prop 65 Warning: This item may cause cancer or reproductive harm. For more info visit p65warnings.ca.gov
Description
Uses replacement elements 12601 cellulose or 12650 micro glass. This housing includes the 12601 cellulose element.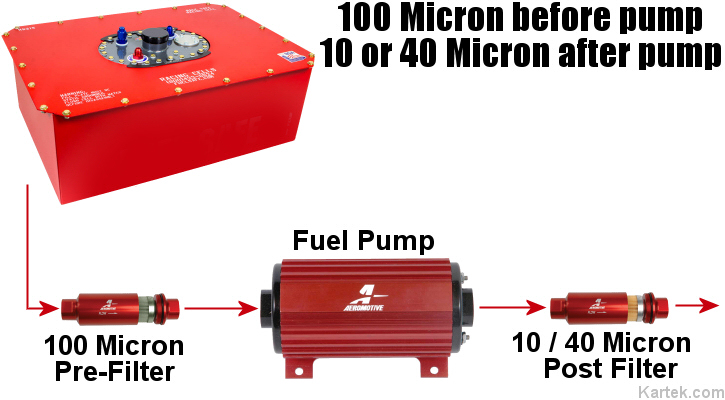 An inexpensive insurance policy to protect your investment, proper filtration is key to fuel system performance. Engineered filter solutions are required to achieve protection with minimum restriction. Aeromotive's filter assemblies offer unmatched flow, ease of installation and maintenance, along with the impeccable machining and finish you've come to expect from all Aeromotive components.
High-flow, 10-micron fabric (fine) replaceable element
Flows 2,000 lb/hr with a pressure drop of less than 1 PSI
Compact size: 5.5" long x 2" diameter
ORB -10 ports. Fittings available to adapt these filters
All filter assemblies feature an O-ring for positive sealing in high pressure applications
CNC-machined from 6061-T6 aircraft aluminum
Bright dip red anodized finish for a corrosion resistant, show car quality appearance
Important Note:
10 micron filters may
ONLY
be used after the fuel pump to protect your injectors or carburetor. Fabric elements are not suitable for use in E85 ethanol and methanol alcohol applications.
Related Parts