SpeedStrap 1.5" UTV Twisted Hook 3 Way Ratcheting Y Tie Down Strap For Spare Tires In Truck Bed
SpeedStrap 1.5" UTV Twisted Hook 3 Way Ratcheting Y Tie Down Strap For Spare Tires In Truck Bed
Suggested:
$95.99
Kartek Price:

$86.99
Sold As: One 3 Point Tire Tie Down
Part Number: PRP15590
MFG Number: 15590

CA Prop 65 Warning
SpeedStrap 1.5" UTV Twisted Hook 3 Way Ratcheting Y Tie Down Strap For Spare Tires In Truck Bed
Speed Strap's three point 1.5" wide tire tie down. This tie down features an adjustable center hub that allows you to mount any size wheel and tire combo as long as you have the space and something for the tie down end to snap on to. The ends of the tie down features the same standard snap on ends that are featured on Speed Strap's regular tie downs. The tie down also features the same style ratchet mechanism used on the 2" tie downs for more leverage and easier operation.
Made with 1-1/2" nylon webbing.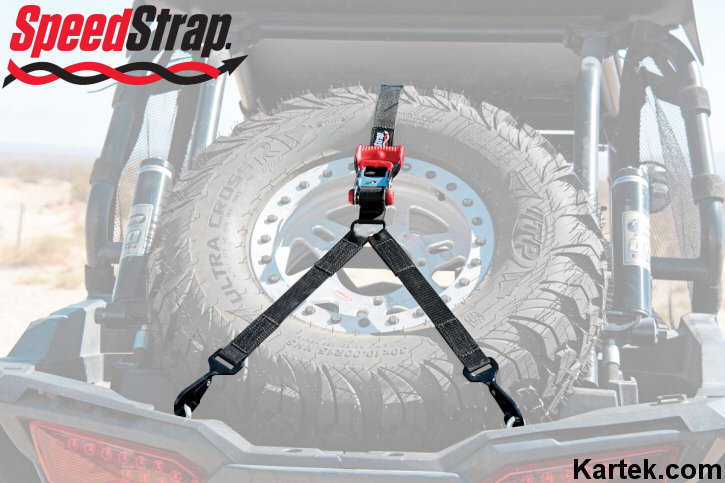 Related Parts
Suggested:
$8.99
You Pay:

$6.50
Suggested:
$8.99
You Pay:

$6.99
Suggested:
$24.99
You Pay:

$17.99
Suggested:
$24.99
You Pay:

$17.99
Suggested:
$95.99
You Pay:

$86.99
Suggested:
$89.99
You Pay:

$80.99
Suggested:
$89.99
You Pay:

$80.99