SPAL 3/8" NPT Thread Temperature Sensor For New Style Plus Series Brushless Fans 190F Off - 215F On
SPAL 3/8" NPT Thread Temperature Sensor For New Style Plus Series Brushless Fans 190F Off - 215F On
Suggested:
$179.25
Kartek Price:

$152.36
Sold As: 1 Temperature Switch
Part Number: SPLSBLTS215P
MFG Number: SBL-TS-215P
CA Prop 65 Warning
SPAL 3/8" NPT Thread Temperature Sensor For New Style Plus Series Brushless Fans 190F Off - 215F On
The Plus series fans are Spal's 2nd generation brushless motor. If you use the incorrect sensor for your brushless fan, the behavior of the fan is inverted. With the incorrect sensor, at low temperatures the fan turns on at
FULL
speed. As the vehicle temperature increases the fan would
SLOW
DOWN
.
On long road trips, the vehicle will overheat because the fan is slowing down as the vehicle temperature increases. Another indicator of the wrong sensor, is when people try to override the fan to full speed using the blue wire and the fan either doesn't run at all, it will only clock/wiggle, or it runs very slowly.
Here is a list of Plus Series brushless fans used with the above sensor:

Spal part number 30107089 with motor number VA109-ABL321P/N-109A/SH
Spal part number 30107059 with motor number VA99-ABL315P/N-101A/SH
Spal part number 30107087 with motor number VA89-ABL320P/N-94A
Spal part number 30107138 with motor number VA90-ABL320P/N-94A
Spal part number 30107103 with motor number VA116-ABL324P-105A
Spal part number 30107102 with motor number VA116-ABL505P-105A
Spal part number 30107125 with motor number VA91-ABL326P/N-65A
Spal part number 30107090 with motor number VA97-ABL322P/N-103A
Spal part number 30107101 with motor number VA117-ABL506P/N-103A
NOTE:
When using multiple fans only one sensor and one SBL-TS-HARN is needed plus one SBL-YAZ-PT10 for each fan. Up to 12 fans can be ran off of one sensor.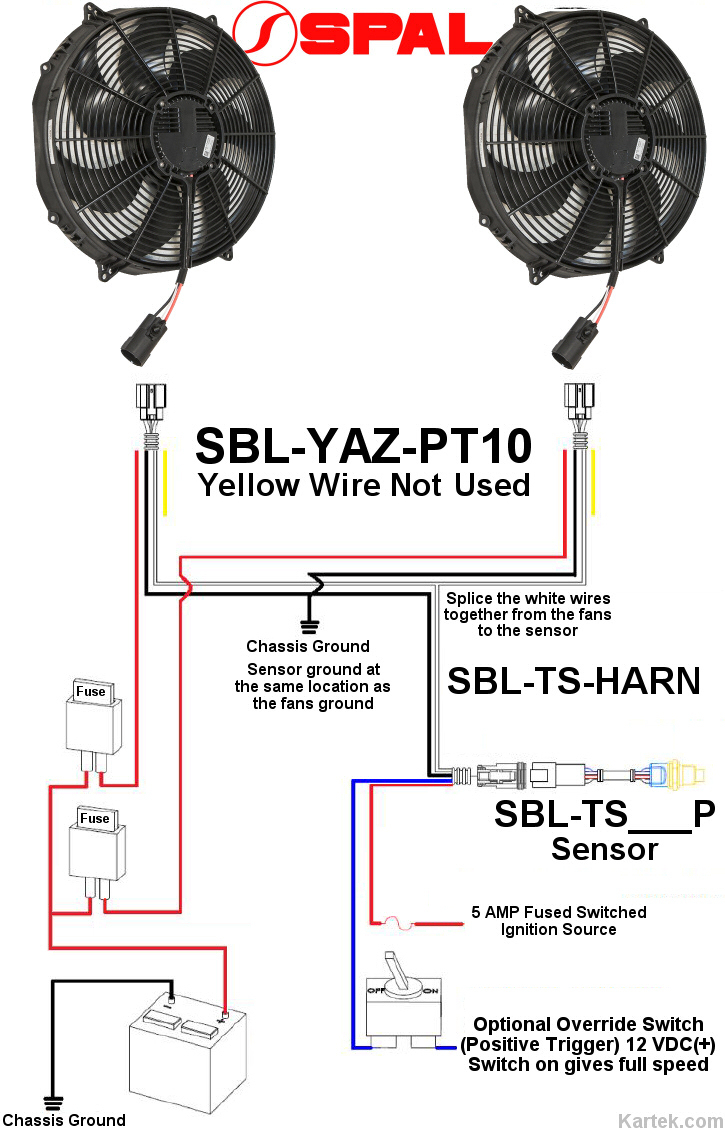 Related Parts
Suggested:
$358.80
You Pay:

$304.95
Suggested:
$26.85
You Pay:

$22.82
Suggested:
$61.98
You Pay:

$52.68
Suggested:
$179.25
You Pay:

$152.36
Suggested:
$179.25
You Pay:

$152.36
Suggested:
$179.25
You Pay:

$152.36
Suggested:
$9.49
You Pay:

$6.99
Suggested:
$9.77
You Pay:

$6.99
Suggested:
$6.99
You Pay:

$5.49