Sachs Italian Clutch Throw Out Bearing For Beetle Or Bus IRS 1971 And Later Or Mendeola 2D or MD5
Sachs Italian Clutch Throw Out Bearing For Beetle Or Bus IRS 1971 And Later Or Mendeola 2D or MD5

California Prop 65 Warning: This item may cause cancer or reproductive harm. For more info visit p65warnings.ca.gov
Description
OEM part number 113-141-165-B. Prior to 1970, Volkswagen used a different style clutch release bearing in the swing axle transmission and early IRS transmission for both bug and bus. Beginning in 1971, Volkswagen installed a guide tube for the throw-out bearing and used a different type of clutch.
Application:
1971 Standard or Super Beetle
1972
1973
1974
1975
1976
1977
1978
1979

Class 11 IRS Baja Bug
Mendeola MD4E
Mendeola MD4-2D
Mendeola MD4S-2D
Mendeola MD2D-DRAG
Mendeola MD4E-DRAG
Mendeola MD5
Mendeola S4
Mendeola S4D
Mendeola S5
Mendeola S5D
vw, volkswagen, baja, bug, beetle, type-1, type 1, type-2, type 2
This bearing will also work in the Mendeola 2D, MD5, S4 and S5 transmissions. However in the sequential transmissions you'll have to change the inner guide sleeve on the throw-out bearing because a sequential transmission has a larger diameter guide tube over the input shaft. You'll also have to do machine work to the housing. The German release bearing (when available) is a lot easier to install the guide sleeve, if you plan to use this bearing on a Mendeola Sequential transmission.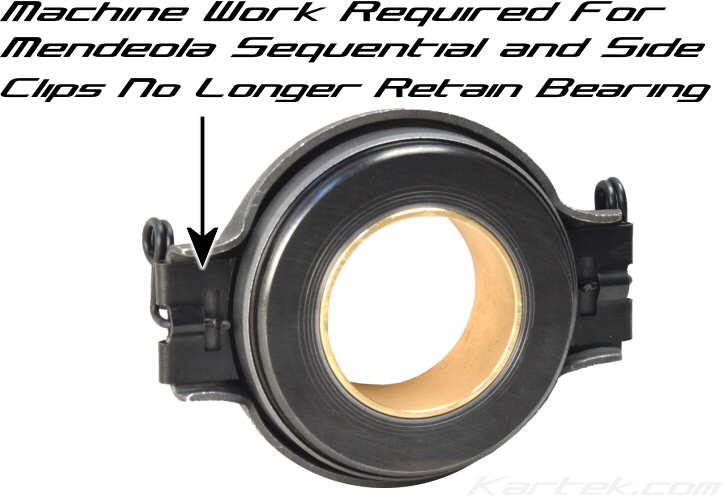 Related Parts