Power Steering Solution 2.5" Piston Truggy Front Steer Wide Spread Power Rack Only Weighs 28lbs
Power Steering Solution 2.5" Piston Truggy Front Steer Wide Spread Power Rack Only Weighs 28lbs
Suggested:
$3,800.00
Kartek Price:

$3,100.00
Part Number: KTK6250
Power Steering Solution 2.5" Piston Truggy Front Steer Wide Spread Power Rack Only Weighs 28lbs
Power Steering Solution's 1.5:1 ratio ultra light weight truggy power rack. Equivalent to what competitors call a 2.75" rack. Other brands of rack and pinions refer to their racks as 2-3/4". That is an
outside
dimension
of the tube. The piston inside of a 2-3/4" ram is actually 2-1/2".
Features:

Reusable wear plate can be flipped over. Both sides of the wear plate are machined so after you wear out one side, you can simply flip it over for more use.
All billet machined
2-1/2" diameter piston
28 Pounds! (compare similar racks that weigh 40lbs +)
#8 Fittings
6" Travel
13/16"-36 Spline pinion
Stainless rack bar
Pinion bearing snap ring AND set screw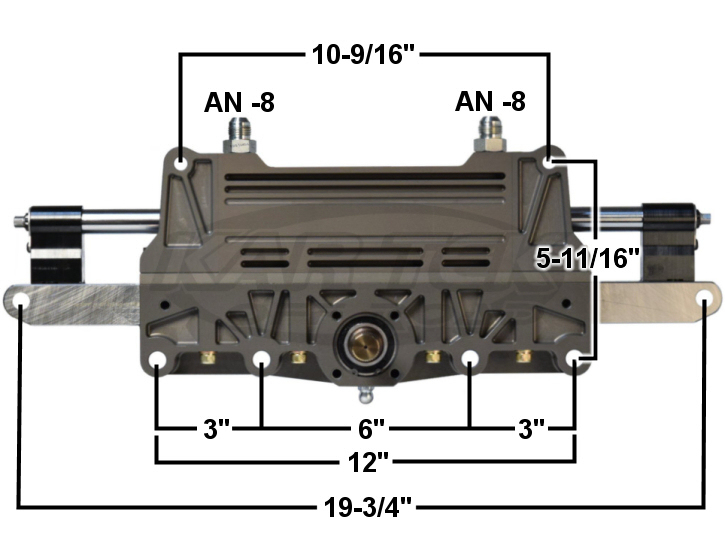 Howe Performance how110 how-110
Related Parts
Suggested:
$3,175.00
You Pay:

$2,895.00
Suggested:
$69.99
You Pay:

$54.99
Suggested:
$69.99
You Pay:

$59.99
Suggested:
$74.99
You Pay:

$69.99
Suggested:
$69.99
You Pay:

$64.99
Suggested:
$69.99
You Pay:

$64.99
Suggested:
$79.99
You Pay:

$69.99
Suggested:
$18.99
You Pay:

$17.99
Suggested:
$149.99
You Pay:

$119.99
Suggested:
$154.99
You Pay:

$119.99