Large Tie Rod To Heim Joint Adapter 7.5 Degree For HRSMX10T 5/8" Hole Built In Misalignment Heim
Large Tie Rod To Heim Joint Adapter 7.5 Degree For HRSMX10T 5/8" Hole Built In Misalignment Heim

California Prop 65 Warning. This item may cause cancer or reproductive harm. For more info visit https://www.p65warnings.ca.gov/
Large Tie Rod To Heim Joint Adapter 7.5 Degree For HRSMX10T 5/8" Hole Built In Misalignment Heim
Our heim joint adapters also called extension pins allow you to put a nice heavy duty heim joint where a tie rod end used to be. This is great for the strength as well as the angle because a heim can achieve a higher degree of angle than a tie rod end or drag link. To confirm the angle and size of your current tie rod end, use the formula for slope (sometimes referred to as "rise over run") where you take the length of the taper "y" and divide it by the top diameter "x1" subtracted from the bottom diameter "x2". See below:
For use with FK Bearing's HRSMX10T or HRSMXL10T allows up to 19 degrees max angle
Top Length: 1-15/16"
Top Thread: 5/8-18
Top Diameter: 5/8"
Bottom thread: 5/8-18
Bottom Taper: 7.5 Degree
x1 Diameter: 0.850"
x2 Diameter: 0.724"
y Length: 0.954"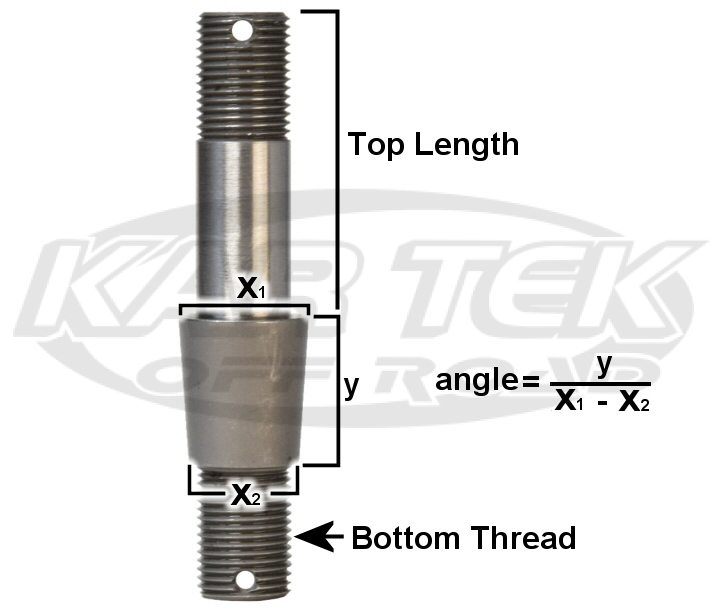 Related Parts
Suggested:
$74.99
You Pay:

$53.99
Suggested:
$74.99
You Pay:

$53.99
Suggested:
$139.99
You Pay:

$95.99
Suggested:
$139.99
You Pay:

$95.99
Suggested:
$44.99
You Pay:

$36.99
Suggested:
$17.99
You Pay:

$12.99
Suggested:
$5.99
You Pay:

$4.25
Suggested:
$0.35
You Pay:

$0.25