K&N HP-5001 Oil Filter 1-1/2"-12 Thread - Wix Cross Reference 51222R, Fram Cross Reference HP6A
K&N HP-5001 Oil Filter 1-1/2"-12 Thread - Wix Cross Reference 51222R, Fram Cross Reference HP6A
Suggested:
$39.99
Kartek Price:

$29.99
Sold As: 1 Oil Filter
Part Number: KNNHP5001
MFG Number: HP-5001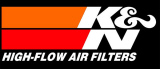 CA Prop 65 Warning
K&N HP-5001 Oil Filter 1-1/2"-12 Thread - Wix Cross Reference 51222R, Fram Cross Reference HP6A
Oil Filter HP6 Style, K&N HP-5001
Originally developed for demanding race applications, K&N's Premium Wrench-Off Oil Filter has become a favorite among consumers for its durability and easy removal. Most of our automotive and marine oil filters come with a 1" nut welded to the top of the canister so they can be easily wrenched-off with a standard tool. To satisfy the demands of racers, our oil filter has many features over and above the requirements of most vehicles. We use thicker canister walls for extra strength and durability which reduces the risk of damage from loose rocks and debris. The drilled hole on the nut provides for safety wire attachment. Our oil filters also use a resin impregnated cellulose filter media. This allows for higher flow rates while providing outstanding filtration.
Features
-O/E replacement oil filters for most cars, trucks, SUV's, motorcycles, & ATV's

-Resin-impregnated filter media traps 99% of harmful contaminants

-1 In. exposed nut designed for easy oil filter removal

-Heavy duty construction for extreme conditions

-Anti-drainback

valve (where applicable) eliminates dry starts, prevents oil from draining back into crankcase during engine shutdown
Cross Reference
| | |
| --- | --- |
| Manufacturer | Part Number |
| Fram | HP6 |
| WIX | 51222 |
Related Parts
Suggested:
$199.99
You Pay:

$144.99
Suggested:
$15.99
You Pay:

$13.99
Suggested:
$287.79
You Pay:

$241.99
Suggested:
$99.95
You Pay:

$97.99
Suggested:
$39.99
You Pay:

$32.99
Suggested:
$29.99
You Pay:

$23.99
Suggested:
$34.99
You Pay:

$28.99