Kartek Off-Road Urethane Bushing 3/8" Inside Diameter .825" Outside Diameter 11/16" Total Length
Kartek Off-Road Urethane Bushing 3/8" Inside Diameter .825" Outside Diameter 11/16" Total Length
Suggested:
$3.49
Kartek Price:

$2.79
Sold As: 1 Urethane Pivot Bushing
Part Number: KTKB100
MFG Number: 61114

Kartek Off-Road Urethane Bushing 3/8" Inside Diameter .825" Outside Diameter 11/16" Total Length
Cross Reference Number: AFB-B100 / AFBB100 / 61114
Urethane pivot bushings offer a great improvement over OEM rubber bushings thanks to the higher level of rigidity which resists deflection, compression, stretching, and twisting. They also work well as motor mounts.
Specifications:
Material: Black Urethane
Fits Into 1" x .095 wall tubing
Outside Diameter: 0.825"
Inside Diameter: 0.375"
Length: 0.500"
Total Length: 0.688"
Flange Length: 0.188"
Flange Diameter: 1.000"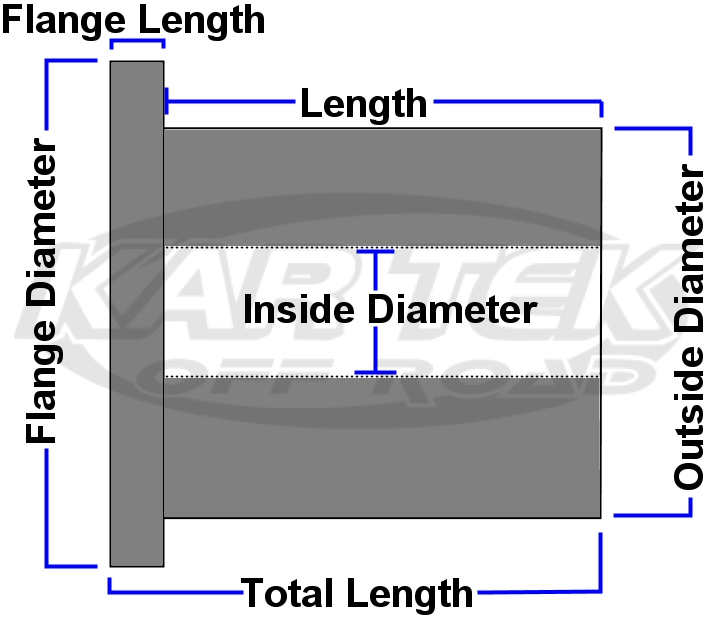 Related Parts
Suggested:
$9.99
You Pay:

$7.50
Suggested:
$3.99
You Pay:

$2.89
Suggested:
$5.99
You Pay:

$4.29
Suggested:
$6.99
You Pay:

$4.59
Suggested:
$7.99
You Pay:

$5.49