Jamar Performance Standard 33 Spline Micro Stub Bearing Assembly For Trailing Arms With 3.60" Hole
Jamar Performance Standard 33 Spline Micro Stub Bearing Assembly For Trailing Arms With 3.60" Hole
Suggested:
$279.99
Kartek Price:

$219.99
Sold As: 1 Bearing Assembly
Part Number: JAMJDB9001TB

CA Prop 65 Warning
Jamar Performance Standard 33 Spline Micro Stub Bearing Assembly For Trailing Arms With 3.60" Hole
This micro stub bearing hub from Jamar is designed to be used with their standard Porsche 930 or Porsche 934 micro stub axles.
It is designed for a STANDARD micro stub disc brake kit trailing arm plate (flat plate). See below picture for reference.
Micro stub rear disc brake kits commonly come with 4 different spline counts on their bearing assembly depending on their manufacturer. Most common micro stub bearing assemblies are offered in 24 spline , 27 spline, 31 spline and 33 spline. This particular micro stub bearing assembly fits into a 3.60" diameter hole on your trailing arm. The depth of a micro stub bearing assembly is about 1.9 inches regardless of the spline count. Therefore if you want to swap your micro stub bearing assembly from a 33 spline economy unit to this heavy duty 33 spline bearing, then you don't need to change your disc brakes.
The stud pattern on this bearing assembly is a Chevy 4-3/4" bolt pattern and it uses 14mm nuts. It uses 3 bolts to mount the assembly on to your trailing arm.
Torque Specs:
Axle Nut: 250 ft/lbs
Chevrolet Lug Pattern Nuts: 85-95 ft/lbs
3 Bearing Assembly Mounting Bolts: 85-95 ft/lbs
930 CV Bolts:40-45 ft/lbs934 or 935 CV Bolts:65 ft/lbs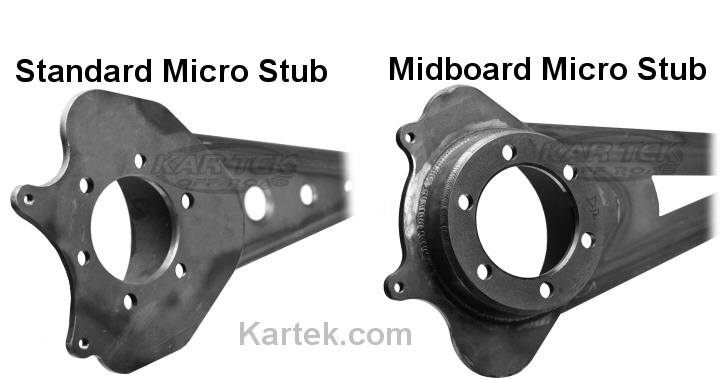 Related Parts
Suggested:
$341.99
You Pay:

$279.99
Suggested:
$369.99
You Pay:

$309.99
Suggested:
$610.50
You Pay:

$499.99
Suggested:
$349.99
You Pay:

$309.99
Suggested:
$646.00
You Pay:

$499.99
Suggested:
$39.99
You Pay:

$31.99
Suggested:
$2,159.00
You Pay:

$1,649.99
Suggested:
$2,442.00
You Pay:

$2,299.99