Jamar Performance Side Shift Adapter Plate For Moving The Shifter Over On Single Seat Vehicle
Jamar Performance Side Shift Adapter Plate For Moving The Shifter Over On Single Seat Vehicle
Suggested:
$129.99
Kartek Price:

$104.99
Part Number: JAMJS1
Jamar Performance Side Shift Adapter Plate For Moving The Shifter Over On Single Seat Vehicle
Jamar's side shifter kit is designed to allow the shifter to be mounted offset from the car's center when used with a rear engine transmission such as with VW, Mendeola and Fortin transmissions. This shifter is great for single seat buggies, especially desert and short course race cars. The adapter kit mounts to the chassis and the heim linkage allows for a smooth operation. The offset is 12"
It doesn't matter if you use Jamar's Super Shifter or Pro-X shifter. You can use any 4 speed H pattern VW style shifter.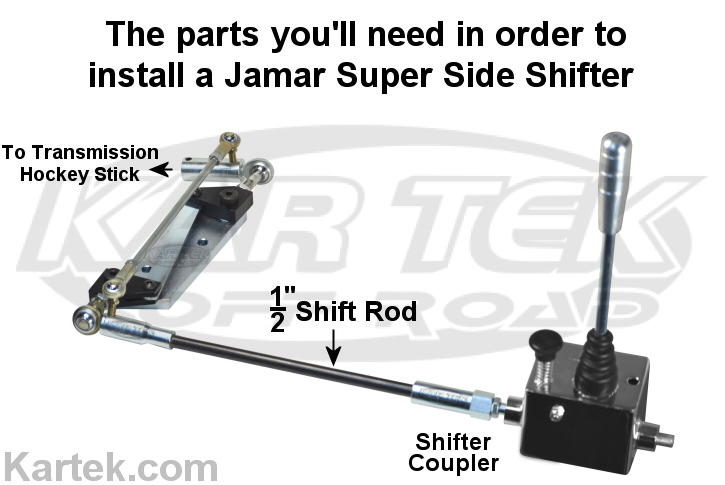 Related Parts
Suggested:
$24.99
You Pay:

$23.99
Suggested:
$7.99
You Pay:

$4.99
Suggested:
$134.99
You Pay:

$124.99
Suggested:
$149.99
You Pay:

$129.99
Suggested:
$329.99
You Pay:

$279.99
Suggested:
$339.99
You Pay:

$289.99
Suggested:
$329.99
You Pay:

$279.99
Suggested:
$339.99
You Pay:

$291.99
Suggested:
$20.99
You Pay:

$19.99