Fragola AN -4 Male To AN -4 Male Black Anodized Aluminum Union Adapter Fittings
Fragola AN -4 Male To AN -4 Male Black Anodized Aluminum Union Adapter Fittings
Suggested:
$3.99
Kartek Price:

$3.49
Sold As: 1 Union Adapter Fitting
Part Number: FRA481504BL
MFG Number: 481504-BL

Fragola AN -4 Male To AN -4 Male Black Anodized Aluminum Union Adapter Fittings
These #4 union/coupler fittings have a standard 37 degree JIC style flare on either side. 7/16"-20 Thread.

They allow you to connect a hose to a hard line, two hoses, or two hard lines together.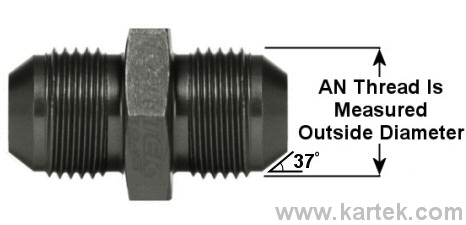 Related Parts
Suggested:
$8.99
You Pay:

$6.49
Suggested:
$5.99
You Pay:

$4.49
Suggested:
$7.99
You Pay:

$6.49
Suggested:
$8.99
You Pay:

$6.99
Suggested:
$1.29
You Pay:

$1.09
Suggested:
$6.99
You Pay:

$5.99
Suggested:
$7.99
You Pay:

$6.99
Suggested:
$9.99
You Pay:

$7.99
Suggested:
$1.49
You Pay:

$0.99
Suggested:
$2.99
You Pay:

$2.59
Suggested:
$2.99
You Pay:

$2.59