Fragola AN -12 Plastic Male Plugs Prevent Dirt Or Debris From Entering Hose Until Use - Pack Of 10
Fragola AN -12 Plastic Male Plugs Prevent Dirt Or Debris From Entering Hose Until Use - Pack Of 10
Suggested:
$7.99
Kartek Price:

$5.99
Sold As: 10 AN Plugs
Part Number: FRA900910
MFG Number: 900910

Fragola AN -12 Plastic Male Plugs Prevent Dirt Or Debris From Entering Hose Until Use - Pack Of 10
Does NOT hold pressure
These #12 plugs thread in with your fingers. They are NOT designed to hold any type of pressure. They simply keep dirt and debris out of your hoses during disassembly. They have a standard 37 degree JIC style flare.

1-1/16"-12 Thread.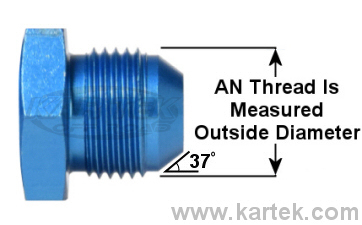 Related Parts
Suggested:
$21.99
You Pay:

$18.99
Suggested:
$4.99
You Pay:

$4.49
Suggested:
$4.99
You Pay:

$4.49