Fox Racing Shocks 2" Body 10" Stroke 5/8" Shaft Hose Remote Reservoir
Fox Racing Shocks 2" Body 10" Stroke 5/8" Shaft Hose Remote Reservoir
We offer this shock with standard "A" valving which has #30 compression and #90 rebound. We also offer this shock with "K" Kartek valving that Fox made specifically for Kartek Off-Road. K valving has a lighter compression and rebound that's ideal for a VW axle beam or street driven truck application.
Suggested:
$250.95
Kartek Price:

$249.95
Sold As: 1 Fox Shock
Part Number: FOX98002032
MFG Number: 980-02-032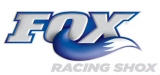 CA Prop 65 Warning
Fox Racing Shocks 2" Body 10" Stroke 5/8" Shaft Hose Remote Reservoir
FOX smooth body shocks are available in a broad range of sizes and that are all specifically valved for your application. FOX has the perfect shock for your project with multiple mounting options to choose from. Their smooth body shocks provide years of unparalleled performance at a competitive price.
Factory Series 980-02-032 Dimensions:
2.0" Diameter
10.0" Travel
26.100" Extended
16.100" Collapsed
2" x 8" Reservoir
12" Reservoir Hose
0.625" Shaft Diameter
1.25" Mounting Width Between Tabs
Uses 1/2" Shock Bolts
30 Compression / 90 Rebound Standard Valving


Fox Low Speed Compression (LSC) Adjuster
9 clicks of compression adjustability allows you to fine tune your ride from very soft to very firm. The best part is, you can adjust your Fox shock without having to take it apart! Ideal for people with 4 seat sand rails, dune buggies, baja bugs, jeeps, or rock crawlers. When you have 4 passengers adjust the compression stiffer to compensate for the extra passenger weight. When you drive alone or only have 1 passenger, adjust the compression softer for a softer ride.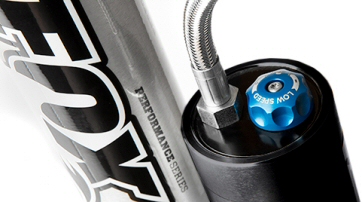 LSC Adjuster Note:
When Fox says "low-speed" and "high-speed" they're referring to the shock shaft's velocity moving up and down.
NOT
the vehicle's speed. If you're cruising through the desert, your suspension is slowly moving up and down. If you launch your vehicle, then the suspension moves quickly upwards. This is shaft velocity.
Related Parts
Suggested:
$250.95
You Pay:

$249.95
Suggested:
$250.95
You Pay:

$249.95
Suggested:
$250.95
You Pay:

$249.95
Suggested:
$250.95
You Pay:

$249.95
Suggested:
$270.95
You Pay:

$269.95
Suggested:
$270.95
You Pay:

$269.95
Suggested:
$295.95
You Pay:

$294.95