Derale 16749 Adjustable 150-240 Degree Electric Fan Controller With 3/8" NPT Pipe Thread Sensor
Derale 16749 Adjustable 150-240 Degree Electric Fan Controller With 3/8" NPT Pipe Thread Sensor

California Prop 65 Warning. This item may cause cancer or reproductive harm. For more info visit https://www.p65warnings.ca.gov/
Derale 16749 Adjustable 150-240 Degree Electric Fan Controller With 3/8" NPT Pipe Thread Sensor
Note:
This kit includes a Beuler brand relay similar to Hella's 4RA 933.332-18 5 blade relays. Also notice that the fan's
NEGATIVE
wire is going to the red wire on the control box.
Derale's redesigned adjustable electric fan control kit is designed to activate up to 2 oil cooler or radiator fans with a total maximum draw of 25 amps. Includes a control box, sending unit, relay, wire harness, and electrical connectors for an easy installation. Override circuit included for either A/C or for a toggle switch (sold separately). Adjustable fan controller turn-on range from 150°F - 240°F, and turn-off preset at 10°F lower than turn-on.
Features
Adjustable turn-on temperature from 150-240°F
Turn-off temperature is preset at 10°F below turn-on temperature
Heavy duty 40/60 amp relay *rated at maximum 25 amp continuous draw - operates a single fan or two fans with a combined draw of 25 amps or less
Override circuit included
Ground circuit relay
Control box is 1-1/2" wide 2-3/4" long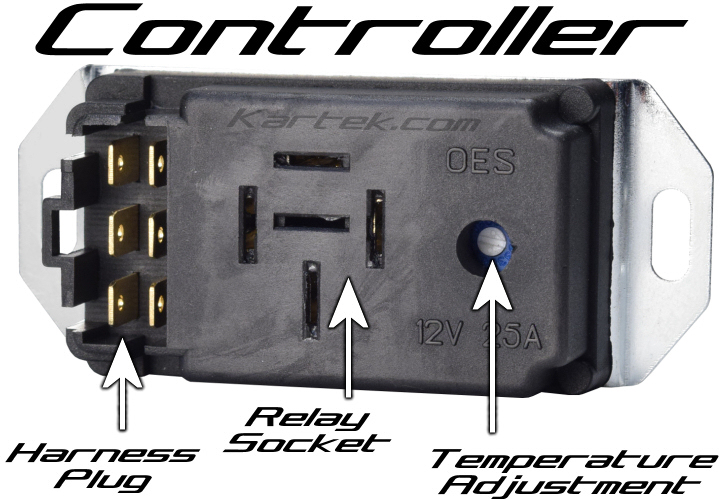 Related Parts
Suggested:
$12.27
You Pay:

$7.69
Suggested:
$12.63
You Pay:

$8.79
Suggested:
$11.62
You Pay:

$6.04
Suggested:
$2.99
You Pay:

$2.25
Suggested:
$19.99
You Pay:

$15.99
Suggested:
$101.25
You Pay:

$67.99
Suggested:
$18.57
You Pay:

$14.86
Suggested:
$24.03
You Pay:

$19.22
Suggested:
$11.01
You Pay:

$7.99
Suggested:
$9.99
You Pay:

$8.50
Suggested:
$9.99
You Pay:

$7.99