DC Power Engineering 8206-180-HP High Output 180 AMP Alternator For LS Engine Running Standard Brkt
DC Power Engineering 8206-180-HP High Output 180 AMP Alternator For LS Engine Running Standard Brkt

California Prop 65 Warning. This item may cause cancer or reproductive harm. For more info visit https://www.p65warnings.ca.gov/
DC Power Engineering 8206-180-HP High Output 180 AMP Alternator For LS Engine Running Standard Brkt
DC Power Engineering's 8206-180-HP alternator commonly used on LS Series Trophy Truck engines with a 5-1/2" center to center mounting hole and a 2" foot on each side.
DC's HP series high-output alternators are the ultimate upgrade when you need the absolute biggest and most sophisticated high output alternator on the planet. All of their HP series alternators are designed for extreme reliability. When you need the most extreme idle output with the most sophisticated integrated alternator monitoring system to prevent thermal failures is where the HP alternator delivers. Every DC Power product is held to the strictest quality standards in the offroad racing industry. They only use 100% brand new USA made components along with one of the most rigorous testing before each individual alternator leaves their shop. Each HP series alternator comes standard with their custom hard anodized billet aluminum pulley and 2 year replacement warranty. If you're looking for a significant overall increase in top end and idle output, the HP series alternator is your solution.
Includes 2-1/2" Six Rib Serpentine Belt Pulley
Make: Chevrolet
Model: LS Engines
Mounting Spread: 5.5 Inches With 2 Inch Foot
4-7/8" In Depth (Front Face Of Alt To Back)
5-5/16" In Diameter
Mounting Type: OEM Fitment
Output Voltage: 14.8 Volts
Idle Amperage: 130 Amps
Hot Idle Amperage At 200° F: 120 Amps
Maximum Amperage: 180 Amps
Hot Maximum Amperage At 200° F: 160 Amps
Stator Configuration: 6 Phase Hairpin
Average A/C Ripple Current: 8 Amps
Positive Output Stud Size: 8mm x 1.25 Steel
Temperature Compensation: Yes With 3 Step Thermal Protection
Rectifier: Twelve 40 Amp Press Fit Diodes
Rectifier Heat Sink: Aluminum
Warranty Duration: 2 Years
The yellow wire is for an idiot light. If you're not running an idiot light on the dash, you'll have to put a 500 Ohm 1/2 watt resistor inline on the yellow wire then to 12 volts key on / key off to power the alternator. The ring terminal on the blue wire connects to the positive output stud on the alternator.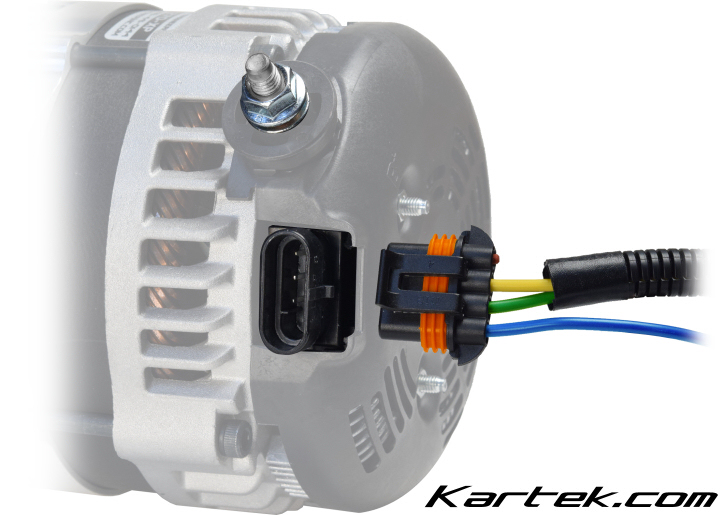 Related Parts
Suggested:
$654.95
You Pay:

$654.95
Suggested:
$654.95
You Pay:

$654.95
Suggested:
$3.79
You Pay:

$2.25
Email us for current pricing and availability
Suggested:
$8.99
You Pay:

$6.99
Suggested:
$5.99
You Pay:

$5.19