Bosch WR1 Relay Kit With Relay Socket, Pigtail Wires And 30 Amp Relay For Fans, Ignition Or Lights
Bosch WR1 Relay Kit With Relay Socket, Pigtail Wires And 30 Amp Relay For Fans, Ignition Or Lights

California Prop 65 Warning. This item may cause cancer or reproductive harm. For more info visit https://www.p65warnings.ca.gov/
Bosch WR1 Relay Kit With Relay Socket, Pigtail Wires And 30 Amp Relay For Fans, Ignition Or Lights
This 12 volt 30 amp relay kit was originally designed to take the amp load off of your VW ignition switch. Also call a "hard start" or "hot start" relay. It provides a better alternative for starting VW air cooled engines over the OEM wiring by providing more power to the starter solenoid.
VW starter ignition wiring:

Disconnect the ignition switch wire (usually a red wire with a black stripe) from the starter solenoid and attached it to the blue #85 spade wire of the relay.
Attach the black #87 wire of the relay to the starter solenoid.
Disconnect the battery cable from the starter solenoid terminal and attach the large red #30 wire of the relay to the starter solenoid terminal. Then re-attach the battery cable to the starter solenoid terminal.
Attach the yellow #86 wire from the relay to a solid non-corroded ground connection.
This is a conventional 5 blade relay with an inline 15 amp fuse. You can also use it for other purposes such as fans or lights.
Important Note:
Always stop and look at the relay to note the positions of each number on each blade! For example Hella's black 40 amp relays have their #30 constant power in a different position than the Hella blue fused relays, but the plug or box will fit either of those relays.
Wiring for purposes other than a VW starter
Look at the numbers on the relay. You can use a small pick to rearrange the wire colors:


#86 wire is switched power on. The trigger wire from a toggle switch or thermostat
#87 wire goes to your lights, starter solenoid, fuel pump, or radiator fans
#87a wire is normally not used (the middle blade). When the toggle switch is turned OFF to 86 the 87a then becomes ON
#30 wire is for 12v constant power
#85 is a ground wire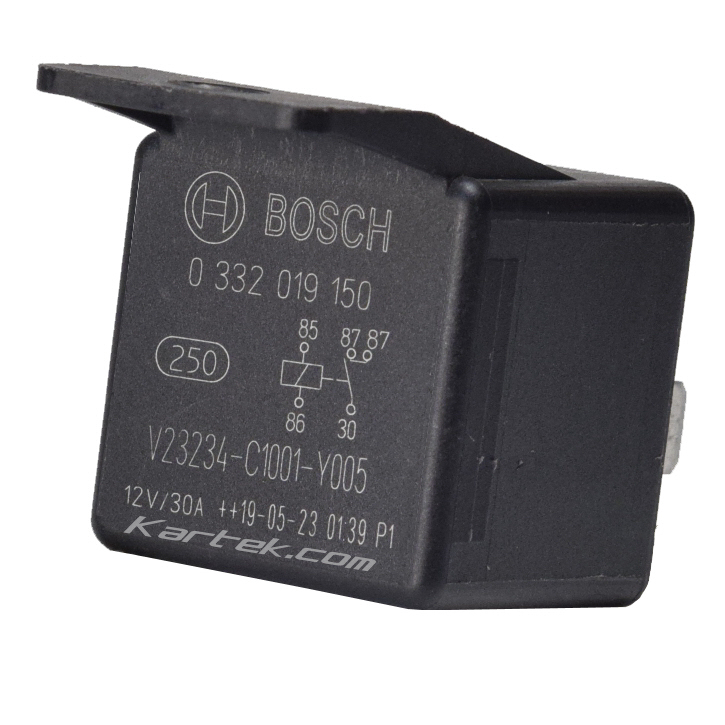 Related Parts
Suggested:
$12.37
You Pay:

$9.90
Suggested:
$9.99
You Pay:

$8.50
Suggested:
$9.99
You Pay:

$7.99
Suggested:
$19.99
You Pay:

$15.99
Suggested:
$19.99
You Pay:

$15.99