17-4 Stainless Steel Misalignment Spacer For 7/8" Heim Or Uniball For 1/2" Bolt 2-1/8" Stack Height
17-4 Stainless Steel Misalignment Spacer For 7/8" Heim Or Uniball For 1/2" Bolt 2-1/8" Stack Height

California Prop 65 Warning. This item may cause cancer or reproductive harm. For more info visit https://www.p65warnings.ca.gov/
17-4 Stainless Steel Misalignment Spacer For 7/8" Heim Or Uniball For 1/2" Bolt 2-1/8" Stack Height
High misalignment spacers are designed for suspension joints, steering tie rod ends and anything else that uses the pivot of a spherical bearing such as heim joints, rod ends and uniballs. They have two functions. They reduce the hole size to accommodate a smaller bolt and increase the max angle of a spherical bearing.
How much the angle is increased is determined by the bolt size and the amount of material removed. When more material is removed, the strength of the spacer is decreased. The same happens when using a larger bolt. To compensate for this we only use heat treated 17-4 stainless steel for our spacers. This also prevents corrosion when used in everyday applications.
We offer a wide variety of high misalignment spacers for almost every possible application.
Important Notes:
Not all spacers will fit every uniball or heim joint.
The stack height or width in the title of the page is a nominal dimension. See below for actual decimal dimension.
Specifications:
Material: 17-4 Heat treated stainless steel
(A) Shoulder Height: 0.625"
(B) Head Diameter: 1.030"
(C) Half The Stack Height: 1.060"
Nominal Stack Height: 2-1/8"
Actual Stack Height: 2.120"
(D) Bolt Size: 1/2"
(E) Heim Or Uniball Size: 7/8"
(F) Depth: 0.437"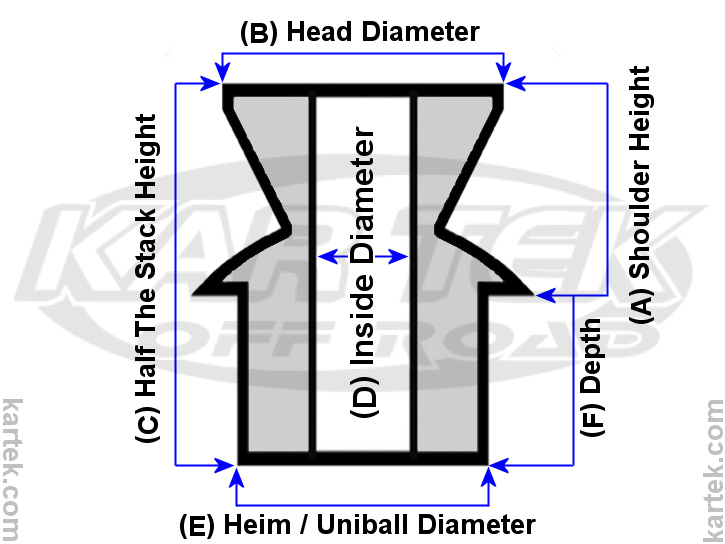 Stack height or stack width, depending on which way you look at it, is an important dimension for you to know for the length of the bolt you'll need plus the gap that you'll need in order to put the rod end or uniball on your vehicle.
We sell the spacers individually because occasionally customers will use two different heights of spacers on one rod end or uniball to achieve the stack height required for their vehicle.
Will Fit:
Aurora Bearing Company
FK Rod Ends
NHBB New Hampshire Ball Bearings
RBC Aerospace Bearings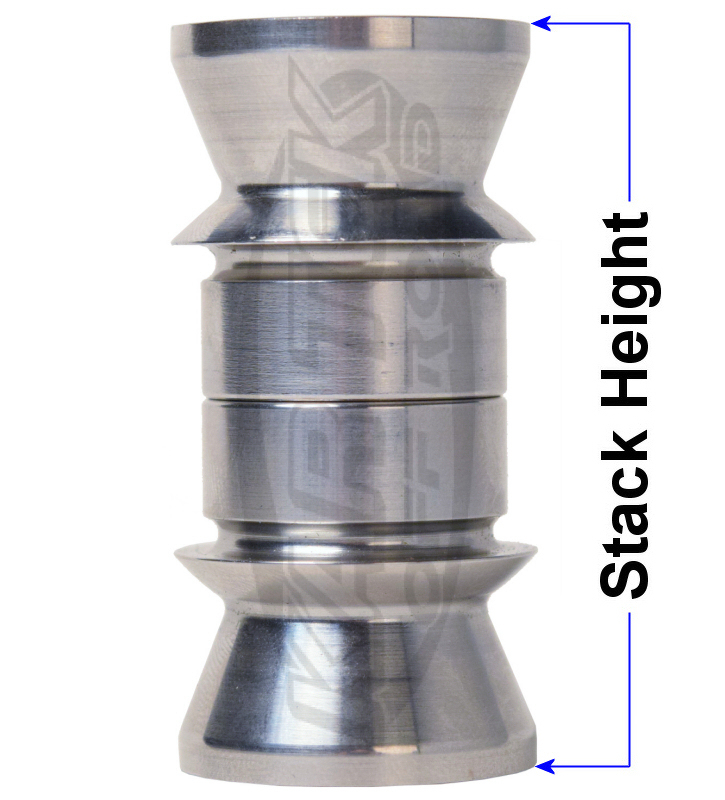 Related Parts
Suggested:
$34.99
You Pay:

$26.99
Suggested:
$34.99
You Pay:

$26.99
Suggested:
$94.99
You Pay:

$73.99
Suggested:
$94.99
You Pay:

$73.99
Suggested:
$197.99
You Pay:

$144.99
Suggested:
$197.99
You Pay:

$144.99
Suggested:
$39.99
You Pay:

$27.99
Suggested:
$44.99
You Pay:

$32.99
Suggested:
$44.99
You Pay:

$35.99
Suggested:
$89.99
You Pay:

$77.99