Sidekick Off Road Backcountry Trail Map Of Glamis, CA Includes Imperial Sand Dunes Brawley CA
Sidekick Off Road Backcountry Trail Map Of Glamis, CA Includes Imperial Sand Dunes Brawley CA
Suggested:
$5.00
Kartek Price:

$3.00
Sold As: 1 OHV Map
Part Number: COOMAP
MFG Number: ORM-104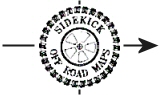 Sidekick Off Road Backcountry Trail Map Of Glamis, CA Includes Imperial Sand Dunes Brawley CA
This is a paper map.
NOT
a GPS chip. However it does provide useful GPS coordinates that you can use in your GPS device.
Sidekick Off-road maps contain a wealth of information in a small compact folding map. Each map contains a state map and a vicinity map showing where the areas are located and a detailed topographic map showing the trails and marked points of interests. It includes GPS coordinates, general information, stats, trail guide, detailed description of points of interests, and rules for the area.
Off Highway Map For:
Four Wheel Drive Vehicles
Motorcycles
Sand Rails
Buggies
ATVs
Campers
Hikers
UTVs
Includes:
Camping Information
Full Color Pictures
Color Coded Map
GPS Coordinates
Scaled Map
Trail Guid
Related Parts
Suggested:
$5.00
You Pay:

$3.00