Red Eibach 475 Pound 6" Tall Spring 2-1/4" Inside Diameter For Coil Over Shocks
Red Eibach 475 Pound 6" Tall Spring 2-1/4" Inside Diameter For Coil Over Shocks
Red Eibach springs vary in color. Some are a burgundy or maroon color and some are a bright red. Product images may differ from actual product appearance.

Note:
This spring does
NOT
fit a Fox, King, Or Sway-A-Way shock. If you have a 2.0 shock then you need to purchase a 2-1/2" ID spring.
Suggested:
$77.78
Kartek Price:

$70.00
Sold As: 1 Eibach Shock Spring
Part Number: ERS600225475
MFG Number: 0600.225.0475

Red Eibach 475 Pound 6" Tall Spring 2-1/4" Inside Diameter For Coil Over Shocks
Eibach Part Number:
0600.225.0475
0600-225-0475
Length: 6 Inches / 152mm
Inside Diameter: 2.25 Inches / 57mm
Spring Rate: 475 lbs/inch - 8.48 kg/mm - 83 N/mm
Full Compressed Height: 2.56 Inches / 65mm
Travel: 3.44 Inches / 87mm
Load At Full Compression: 1633lbs / 7264N
Weight: 1.82lbs / 0.83kgs

New!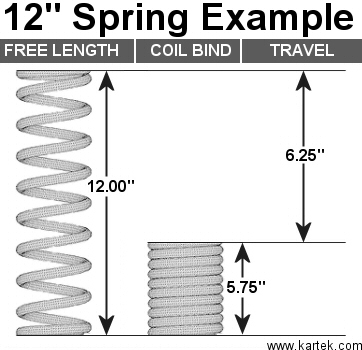 Related Parts
Suggested:
$49.38
You Pay:

$40.00
Suggested:
$50.00
You Pay:

$45.00
Suggested:
$44.44
You Pay:

$40.00
Suggested:
$27.78
You Pay:

$25.00