Pyrotect X-Small Pro Airflow Side Forced Air SA2015 White Helmet Wired For Race Radio
Pyrotect X-Small Pro Airflow Side Forced Air SA2015 White Helmet Wired For Race Radio
Suggested:
$524.99
Kartek Price:

$519.99
Sold As: 1 Pyrotect Helmet
Part Number: FIL9039995W
MFG Number: 9039995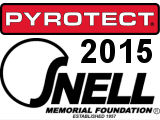 Pyrotect X-Small Pro Airflow Side Forced Air SA2015 White Helmet Wired For Race Radio
To ensure an accurate fit, please use the chart below to order your correct helmet size.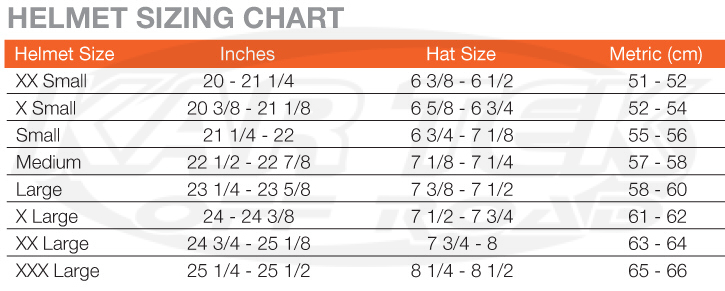 Measuring Instructions:
Carefully measure around your head, above the ears. Take the measurement, in inches or centimeters, referring to the sizing chart above for your correct hat/helmet size. The helmet must fit properly for optimum performance and safety. Don't guess your size. Helmets must be securely and snugly fastened before engaging in any activity. hjc, pci, impact
Pyrotect's Patented SA2015 Pro Airflow composite helmets are unmatched by the competition. The Pro Airflow SA2015 helmets come with a unique six pad interior system which allows for resizing the helmet for a perfect fit along with corrugated ridges which allows for better heat transfer to keep you cooler and reduce fogging. The Pro Airflow helmets are vacuumed bagged and autoclave cured for superior helmet strength and durability while keeping the helmet as light as possible.
Snell SA 2015 rated
1/8" Polycarbonate shield with tear off post
Velcro installed for helmet skirt (sold separately)
Designed with a Composite Tri Weave Vacuum bagged & autoclave cured light weight shell for maximum durability
Stainless Steel hardware and a Kevlar chinstrap
New Head Liner air channel design for better adjustability, added comfort, and improved air flow
Removable six pad headliner & cheek pad system for cleaning and easy resizing for a perfect fit
Rubber eye port seal
Compatible with Racing Optics or Ultra Shield tear offs
Large eye port offers greater visibility
M6 inserted for head neck restraint devices
Great aerodynamics
Fire retardant Nomex interior
Related Parts
Suggested:
$34.99
You Pay:

$27.99
Suggested:
$39.99
You Pay:

$31.99
Suggested:
$39.99
You Pay:

$31.99
Suggested:
$39.99
You Pay:

$31.99
Suggested:
$69.99
You Pay:

$52.99
Suggested:
$524.99
You Pay:

$519.99
Suggested:
$524.99
You Pay:

$519.99
Suggested:
$524.99
You Pay:

$519.99
Suggested:
$524.99
You Pay:

$519.99
Suggested:
$524.99
You Pay:

$519.99
Suggested:
$524.99
You Pay:

$519.99