K&N 25-3346 Foam Wrap Without Top For Oval Air Filters 4-1/2 Inches Wide 7 Inches Long 6 Inches Tall
K&N 25-3346 Foam Wrap Without Top For Oval Air Filters 4-1/2 Inches Wide 7 Inches Long 6 Inches Tall
Suggested:
$49.99
Kartek Price:

$39.99
Sold As: 1 K&N Air Filter Cover
Part Number: KNN253346
MFG Number: 25-3346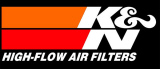 CA Prop 65 Warning
K&N 25-3346 Foam Wrap Without Top For Oval Air Filters 4-1/2 Inches Wide 7 Inches Long 6 Inches Tall
The K&N Airforce Pre-Filter is a specially designed foam filter wrap made to extend the service interval of your K&N Filtercharger when used in very dusty conditions. They are made from large, open cell foam. The Airforce Pre-Filter will stop 90% of the dirt, yet only add a 2% restriction to the airflow of the filter. This makes foam a great pre-filter. The Airforce Pre-Filter is designed to be used with K&N Filter Oil and can be cleaned with K&N Cleaner or soap & water.
Related Parts
Suggested:
$34.99
You Pay:

$32.99
Suggested:
$69.99
You Pay:

$49.99
Suggested:
$19.99
You Pay:

$15.99
Suggested:
$19.99
You Pay:

$16.99
Suggested:
$12.95
You Pay:

$11.99