Kartek Off-Road Custom Made Mesh Style Window Nets 0-60 Inches Perimeter Measured Around The Net
Kartek Off-Road Custom Made Mesh Style Window Nets 0-60 Inches Perimeter Measured Around The Net
We no longer sell these window nets. However, you can still purchase them from PRP Seats
Kartek Off-Road Custom Made Mesh Style Window Nets 0-60 Inches Perimeter Measured Around The Net
These window nets are made to order and are NOT refundable
After you order the window net you must
email us
a detailed diagram or ideally mail us a cardboard template. Average lead time is 4 weeks to make them.
The price and size of the window nets is based on a perimeter dimension. If you add up all sides of the net you will get a perimeter dimension. See diagram.

Standard price is for a thru-rod or button snap-on style net. Circular grommets are an additional cost per grommet.

It is YOUR responsibility to contact the sanctioning body of your race event to find out what they CURRENTLY require for SFI Certification, thru-rod, snap-on or grommet style window nets. The rules constantly change per year and per race class.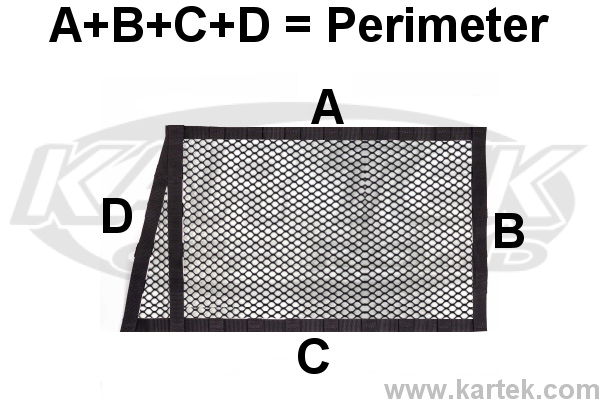 Related Parts
Suggested:
$75.00
You Pay:

$65.00
Suggested:
$80.00
You Pay:

$70.00
Suggested:
$90.00
You Pay:

$80.00
Suggested:
$95.00
You Pay:

$85.00
Suggested:
$110.00
You Pay:

$100.00
Suggested:
$120.00
You Pay:

$110.00
Suggested:
$29.99
You Pay:

$19.99
Suggested:
$39.99
You Pay:

$29.99
Suggested:
$80.95
You Pay:

$65.99
Suggested:
$54.99
You Pay:

$43.99
Suggested:
$59.99
You Pay:

$48.99
Suggested:
$9.99
You Pay:

$7.49
Suggested:
$9.99
You Pay:

$7.49