Jamar Performance Billet Aluminum Slim Line 5/8" Bore Clutch Or Brake Master Cylinder
Jamar Performance Billet Aluminum Slim Line 5/8" Bore Clutch Or Brake Master Cylinder
Suggested:
$129.99
Kartek Price:

$99.99
Sold As: 1 Jamar Master Cylinder
Part Number: JAMMC30005/8
MFG Number: MC30005/8

Jamar Performance Billet Aluminum Slim Line 5/8" Bore Clutch Or Brake Master Cylinder
These slim master cylinders are 100% machined billet aluminum for extra strength in a more compact size. They have standard 2-1/4" pattern used by most brake companies so they will mount to most pedal assemblies and firewalls. The mounting flange can rotate to be a vertical bolt pattern or horizontal pattern. Uses DOT 3 brake fluid. The outlet is tapped for standard 1/8" NPT fittings.
Size comparison for reference:
Master cylinder body width:
Remote reservoirs master cylinder 1-5/8" wide
Slim line master cylinder 1-5/8" wide
Short standard width master cylinder 2-1/4" wide
Tall standard width master cylinder 2-1/4" wide
Master cylinder total height including the round cap:
Slim line master cylinder aprox. 3-1/2" tall
Short standard width master cylinder aprox. 4-3/8" tall
Tall standard width master cylinder aprox. 5" tall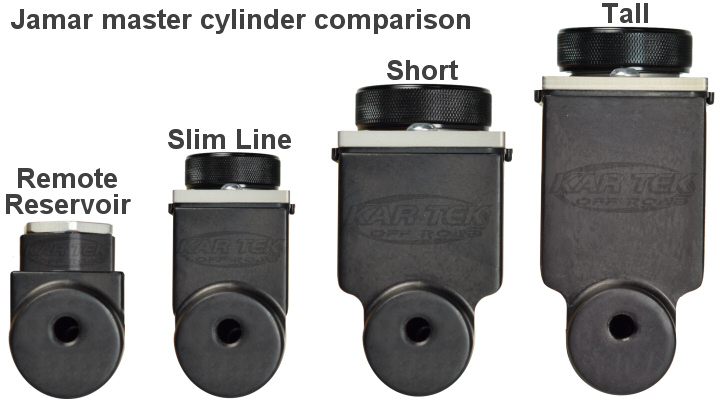 Related Parts
Suggested:
$9.00
You Pay:

$7.99
Suggested:
$9.00
You Pay:

$7.99
Suggested:
$11.00
You Pay:

$9.99
Suggested:
$11.00
You Pay:

$9.99
Suggested:
$3.99
You Pay:

$2.99
Suggested:
$8.99
You Pay:

$6.99
Suggested:
$8.99
You Pay:

$6.99