Fox Racing Shocks 2.5" x 8" DSC Dual Speed Compression Adjuster Reservoir Upgrade
Fox Racing Shocks 2.5" x 8" DSC Dual Speed Compression Adjuster Reservoir Upgrade
Suggested:
$299.95
Kartek Price:

$299.95
Sold As: 1 Reservoir Body, Adjuster, End Cap And Internal Piston
Part Number: FOX81003001KIT
MFG Number: 810-03-001-KIT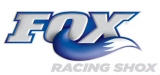 Fox Racing Shocks 2.5" x 8" DSC Dual Speed Compression Adjuster Reservoir Upgrade
Add remarkable versatility and precise tuning with FOX's new DSC reservoir. A simple twist of either two adjuster knobs allows 10 separate low-speed and 12 high-speed compression levels. Included new black anodized aluminum reservoir increases cooling efficiency. Works on all 7/8" shaft smooth body and coil-over shocks.
Notes:

The inlet is on the side of the reservoir so you'll need to purchase a 90 degree fitting.
On 2.0 - 7/8" shaft shocks they come with a 9/16 o-ring male to 9/16 o-ring male hose so you'll have to change the stock hose too.
The length of the reservoir (8 inches) does not include the adjustable top. The total length of the reservoir is 10.5 inches to the top of the knob.
When Fox says "low-speed" and "high-speed" they're referring to the shock shaft's velocity moving up and down. Not the vehicle's speed. If you're cruising through the desert and your suspension is slowly moving up and down, then you're using the "low-speed" gold knob's adjustment. If you launch your vehicle and the suspension moves quickly upwards, then you're using the "high-speed" blue knob's adjustment.
For 2.0 - 7/8" shaft shocks using -6 hose you'll need:

3/4-16 o-ring male to -6 male 90 degree for the reservoir. Our part number IDI-206286S
9/16-18 o-ring male to -6 male straight for the shock body. Our part number IDI-20270266S
-6 female to -6 female steel braided hose 12 to 20 inches long depending on your shock
For 2.5 - 7/8" shaft shocks using -10 hose you'll need:

3/4-16 o-ring male to -10 male 90 degree for the reservoir. Our part number IDI-2062810S
Related Parts
Suggested:
$2.99
You Pay:

$2.59
Suggested:
$11.99
You Pay:

$9.99
Suggested:
$19.99
You Pay:

$15.99