Fox Racing Shocks 2.5" Coil Over Body 10" Stroke 7/8" Diameter Shaft With Piggy Back Reservoir
Fox Racing Shocks 2.5" Coil Over Body 10" Stroke 7/8" Diameter Shaft With Piggy Back Reservoir
Price is for a Pair of shocks
These shocks have all the bells and whistles that Fox offers.
Kashima Coat
Dual Speed Compression Adjuster
Rebound Adjuster
BOC Bottom Out Control
Suggested:
$1,645.00
Kartek Price:

$1,645.00
Sold As: 2 Fox Coil-Over Shocks
Part Number: FOX88508078
MFG Number: 885-08-078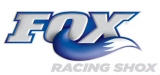 Fox Racing Shocks 2.5" Coil Over Body 10" Stroke 7/8" Diameter Shaft With Piggy Back Reservoir
Originally developed for Weller Racing's SR1, this is Fox Shocks state of the art 2.5" Podium RC2 shock
From the finish line at the Indy 500 to the deserts of Dakar, FOX coil-over shocks have proven themselves as winners year after year. FOX engineers work only with the best spring manufacturers to develop winning spring/shock combinations. Whether you are upgrading your daily driver or building an unlimited trophy truck, FOX has a coil-over shock to fit your needs.
Factory Series 885-08-078 Dimensions:
Setup For Dual Spring Rate
24" Maximum Combined Total Spring Length
Typically Customers Purchase 10" Top Spring and 12" Bottom Spring
2.5" Diameter
10.0" Travel
29.750" Extended
19.750" Collapsed
2.5" x 10" Reservoir (Fixed Position)
0.875" Shaft Diameter
1.25" Mounting Width Between Tabs
Can use 1/2" or 12mm Shock Bolts
DSC Dual Speed Compression:
With DSC, you can adjust the shock's high and low-speed compression damping by simply turning the external adjusters. DSC allows you to maximize small bump compliance and traction while still having the extra damping required for big hits.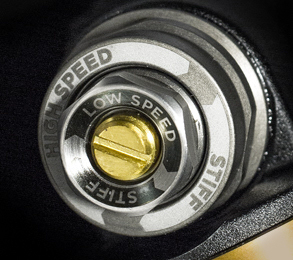 Kashima Coat:
Buttery-smooth, Genuine Kashima Coat's distinctive gold color is backed by its high performance attributes — properties that provide an exceptionally smooth feel and EXTREME durability.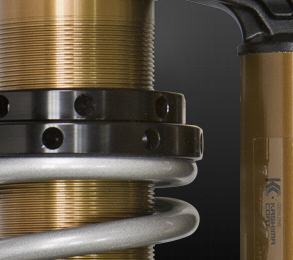 Bottom-Out Control
FOX's bottom-out control provides extra resistance against bottom-outs.

As the shock is compressed, the secondary piston will enter the bottom-out cup in the final 25% of travel to produce up to 3000 lbs of additional damping force. This allows the shocks to be tuned to give improved small bump compliance in the upper portion of the stroke, while still maintaining the ability to absorb huge impacts effectively.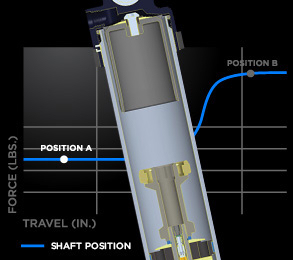 Rebound Damping
Rebound damping controls the rate at which the shock returns after it has been compressed. The proper rebound setting is a personal preference, and changes with rider weight, riding style and conditions.

A rule of thumb is that rebound should be as fast as possible without kicking back or feeling bouncy. For slower rebound, turn the rebound adjuster knob clockwise. For faster rebound, turn the rebound adjuster knob counter-clockwise.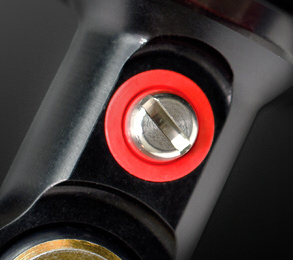 Related Parts
Suggested:
$619.95
You Pay:

$619.95
Suggested:
$639.95
You Pay:

$639.95
Suggested:
$664.95
You Pay:

$664.95
Suggested:
$664.95
You Pay:

$664.95
Suggested:
$664.95
You Pay:

$664.95
Suggested:
$799.95
You Pay:

$799.95
Suggested:
$799.95
You Pay:

$799.95
Suggested:
$799.95
You Pay:

$799.95
Suggested:
$799.95
You Pay:

$799.95