Baja Bug Fiberglass Dash With Center Console For Winters Style Shifter And Molded For A RacePak Dash
Baja Bug Fiberglass Dash With Center Console For Winters Style Shifter And Molded For A RacePak Dash
Suggested:
$425.00
Kartek Price:

$410.00
Sold As: 1 Fiberglass Baja Bug Dash
Part Number: FIBGUBDASH
MFG Number: GU.TBD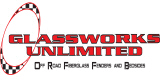 CA Prop 65 Warning
Baja Bug Fiberglass Dash With Center Console For Winters Style Shifter And Molded For A RacePak Dash
This dash goes right up to the windshield and has a full built in divider between driver and passenger. Molded specifically for a RacePak dash system and will sit flush into the dash. Easy for the driver to see as it is tilted towards the driver. A gate shifter can be installed into the divider and gauges can be added to the face of the dash. Clean fitting with minimal work for installation. A nice addition for a custom look. All hand laid fiberglass to ensure quality workmanship and prevent warping. Made here in the USA.
RacePak gauges can be purchased at
www.racepak.com
Features:
White hand laid fiberglass
USA made
Does NOT include the RacePak Dash
Molded to fit a RacePak Dash
Area in front of co-driver will fit a 8-1/2" wide 5-1/2" tall GPS and is angled towards driver
Area below RacePak mold will fit toggle switches 8-1/2" wide x 1" tall
Molded for tweeter speakers on either side
Flat area for shifter is 3-1/2" wide and 11" tall
Related Parts
Suggested:
$350.00
You Pay:

$300.00
Suggested:
$450.00
You Pay:

$400.00
Suggested:
$120.00
You Pay:

$85.00
Suggested:
$120.00
You Pay:

$85.00