2.0 Coil-Over Piggy Back Reservoir Shocks 5/8" Shaft With Compression Adjuster
2.0 Coil-Over Piggy Back Reservoir Shocks 5/8" Shaft With Compression Adjuster
Fox DSC Dual Speed Compression Adjuster
26 clicks high speed compression adjustability and 22 click low speed compression adjustability allows you to fine tune your ride from very soft to very firm. The best part is, you can adjust your Fox shock without having to take it apart! Ideal for people with 4 seat sand rails, dune buggies, baja bugs, jeeps, or rock crawlers. When you have 4 passengers adjust the compression stiffer to compensate for the extra passenger weight. When you drive alone or only have 1 passenger, adjust the compression softer for a softer ride.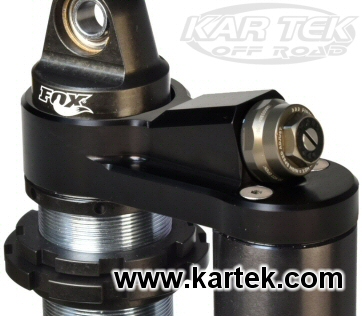 DSC Adjuster Note:
When Fox says "low-speed" and "high-speed" they're referring to the shock shaft's velocity moving up and down.
NOT
the vehicle's speed. If you're cruising through the desert and your suspension is slowly moving up and down, then you're using the "low-speed" flat head screw driver adjustment on the adjuster. If you launch your vehicle and the suspension moves quickly upwards, then you're using the "high-speed" 17mm hex adjustment on the adjuster.